Trump, Obama, and the Approval of the Dakota Access Pipeline
A sad example of how arbitrary politically motivated bureaucratic decisions are replacing the rule of law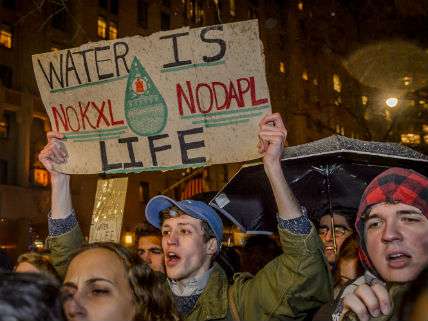 President Trump signed an executive order last week directing the Army Corps of Engineers to "review and approve in an expedited manner, to the extent permitted by law" the easements across federal lands necessary to complete the construction of the Dakota Access Pipeline (DAPL). At issue is permission to finish construction of the last segment of the pipeline underneath Lake Oahe in North Dakota. Last July, the Corp completed and issued an environmental assessment (EA) with a "Finding of No Significant Impact" with regard to the construction of the pipeline beneath Lake Oahe.
The Standing Rock Sioux Tribe objected to the construction due to expressed concerns that an upsteam pipeline leak could contaminate their drinking and irrigation water supplies. However, the Corps' environmental assessment specifically noted, "The tribes argue the District did not adequately consult on the DAPL pipeline alignment. The EA establishes that the District made a good faith effort to consult with the tribes and that it considered all tribal comments." The Corps' assessment concluded that measures adopted to mitigate any spills were adequate to protect Lake Oahe. Environmental activists opposed the construction of the pipeline in the hope that stopping it would prevent the production and burning of fossil fuels that contribute to man-made global warming.
As the fall wore on, thousands of protesters set up camp near Lake Oahe to block construction of the pipeline and to put pressure on the Obama administration to overrule the Corp's environmental assessment. Without speculating on the behind-the-scenes maneuvering by Obama administration officials, it is the case that acting Assistant Director of the Army for Civil Works Jo-Ellen Darcy issued in December a memorandum that voided the Corps' assessment. In her memo Darcy did observe:
I want to be clear that this decision does not alter the Army's position that the Corps' prior reviews and actions have comported with legal requirements. Rather, my decision acknowledges and addresses that a more robust analysis can be done and should be done, under these circumstances (emphasis hers), before an easement is granted to the Dakota Access Pipeline to cross the Missouri River on Corps land.
Under the circumstances, Darcy then declined to approve an easement that would enable the completion of the pipeline. In addition, Darcy ordered the Corps to undertake a full-blown environmental impact statement, a process that could take as long as two years more to complete.
Now just two months later, North Dakota Sen. John Hoeven has reportedly been told that Army Secretary Robert Speer will soon order the Corps to issue the easement necessary to complete the pipeline. Whether this apparent impending approval is "permitted by law" will, of course, be contested by Sioux and environmental activists in court.
Ultimately, this episode is an example of how arbitrary politically motivated bureaucratic decisions are replacing the rule of law. This should worry every American.