Here's That Time Jeff Sessions Wanted to Execute Drug Dealers
"I don't think that sounds like something I would normally say," says the guy who definitely said that.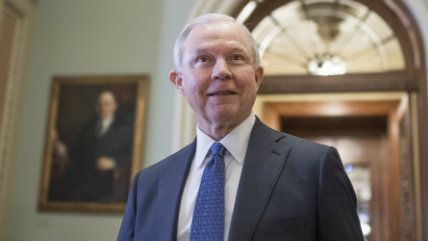 (Tom Williams/CQ Roll Call/Newscom)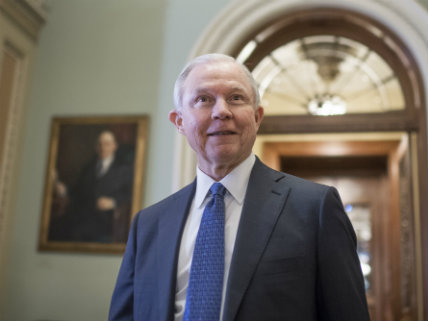 The Senate Judiciary Committee approved the nomination of Republican Sen. Jeff Sessions to Attorney General on Wednesday morning along a party-line vote, clearing the way for a floor vote in the Senate to confirm his appointment. But there's a little bit of unfinished business that should be cleared up.
Back during Sessions' confirmation hearings before the Judiciary Committee in December, Democratic Sen. Pat Leahy asked Sessions about his previous support, while he was the attorney general of Alabama, for making repeat drug trafficking offenses punishable by the death penalty.
"[Y]ou have some very strong views," Leahy said. "You even mandated the death penalty for anyone convicted of a second drug trafficking offense, including marijuana, even though mandatory death penalties are, of course, unconstitutional."
"Well, I'm not sure under what circumstances I said that," Sessions replied. "But I don't think that sounds like something I would normally say. I will be glad to look at it."
If Sessions wants to look at it, here it is: The proposal was part of a package of crime bills introduced by the Alabama governor and Sessions, then state attorney general, in 1996. The details of the crime package were reported in a '96 issue of Alabama Lawyer, the magazine of the state bar association. This has been reported elsewhere, but I haven't seen a link to the article and the details of the bill. Take a look for yourself on pg. 155.
"In addition to 'tort reform' bills, Governor James and Attorney General Sessions have proposed 31 crime bills, that they propose will 'fix a broken system,'" the magazine wrote.
According to Alabama Lawyer, one of those bills, would have amended Alabama's Drug Trafficking Enterprise Act to change the punishment for a second conviction from mandatory life imprisonment to a sentence of death.
The bill included a host of other punitive proposals such as:
Abolishing parole, similar to the federal prison system.
Eliminating the state court of criminal appeals from review of death penalty cases, instead sending death penalty appeals directly to the Alabama Supreme Court. This would have had the effect of curtailing the number of appeals death row inmates could file.
Expanding the number of persons ineligible for bail from those convicted of capital offenses to those charged with Class A or B felonies.
Allowing "warrantless searches for violations as well as felonies and misdemeanors."
It would have also strengthened the mandatory penalties for anyone convicted of a drug crime while possessing a firearm, expanded the definition of felony murder, and raised a second conviction of possession of marijuana for personal use from a misdemeanor to a felony crime.
The bill ultimately failed. Sessions' views on drugs and crime have softened in the years since, as have those of many politicians whose careers outlasted the "tough on crime" demagoguery of the '90s, but it never hurts to take a trip down memory lane, especially when one of those politicians is poised to become U.S. attorney general. And especially when that presumptive attorney general is reportedly the "intellectual godfather" behind the current administration's policies.