Trump Will Announce Supreme Pick Soon, Expected to Be Gorsuch or Hardiman: P.M. Links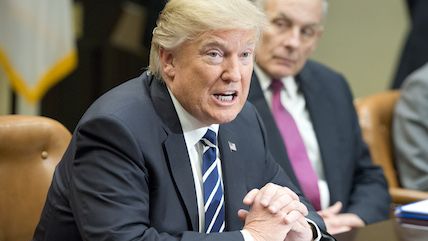 (Ron Sachs/CNP / Polaris/Newscom)
Ron Sachs/CNP / Polaris/Newscom

President Trump has invited his two finalists for the Supreme Court position—Neil Gorsuch and Thomas Hardiman—to come to Washington, D.C. He is expected to announce the pick tonight.

The Senate Judiciary Committee has delayed its vote to confirm Sen. Jeff Sessions as Attorney General.
Betsy Devos clears the Senate Health, Education, Labor and Pensions committee. The vote was strictly along party lines.
Some academics want to boycott U.S.-based conferences in protest of Trump's executive order on immigration.
Trump's next immigration order could make life miserable for Sillicon Valley.