Mexican President Cancels Trip to D.C., Ohio Executions Blocked, Clock Demands Press Coverage: P.M. Links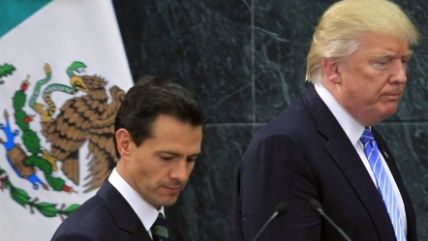 Str/Xinhua/TNS/Newscom

Mexican President Enrique Peña Nieto has canceled his trip to Washington, D.C., over that whole border wall thing and who will be paying for it.

The media-starved Doomsday Clock is back and says we're more doomed than we've been since the 1950s.
Senior leaders at the State Department have resigned. So has Border Patrol chief Mark Morgan, who had clashed with the union.
A San Diego high school student who sued over being forced to urinate in a bucket by a teacher will get $1.25 million from the school district. (A nice reminder that it's National School Choice Week!)
A federal judge has blocked the use of lethal injections to execute three prisoners in Ohio as unconstitutional, citing evidence from other states that the drug cocktail didn't adequately sedate people as it was killing them.
The share of American workers who belong to unions fell to its lowest level on record in 2016. Only 10.7 percent of workers belong to unions.
Follow us on Facebook and Twitter, and don't forget to sign up for Reason's daily updates for more content.