President Trump Peddles Popular Vote Lie, More Californians Want to Secede, La La Land Leads Oscar Nominations: A.M. Links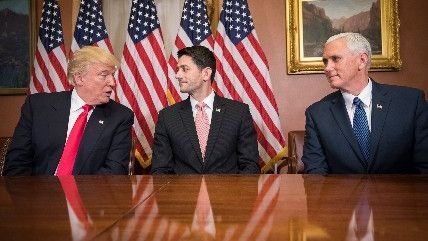 (Caleb Smith; Office of the Speaker of the House/Wikimedia Commons)
Caleb Smith; Office of the Speaker of the House/Wikimedia Commons

In a meeting with congressional leaders, President Donald Trump once again asserts the "alternative fact" that millions of undocumented immigrants deprived him of a popular vote victory.

About one in three Californians support seceding from the union, up from one in five in 2014.
China's birth rate rises eight percent just one year after restrictions on its long-standing "one child policy" were loosened.
China also couldn't be happier to have the U.S. pull out of the Trans-Pacific Partnership (TPP).
Hamas threatens new violence against Israel if the U.S. moves its embassy to Jerusalem.
There's also speculation that Trump may not be making the embassy move as big a priority as previously indicated.
The new weather satellite GOES-16 has sent some pretty awesome views of Earth and the moon back to us terrestrial-bound humans.
Academy Award nominations were announced this morning, with La La Land earning 14 nominations. Mel Gibson was also a surprise Best Director nominee for Hacksaw Ridge.