Two Journalists Charged With Felony Rioting During Trump Inauguration Protests
Meanwhile, another journalist writes in The Nation about actively participating in rioting.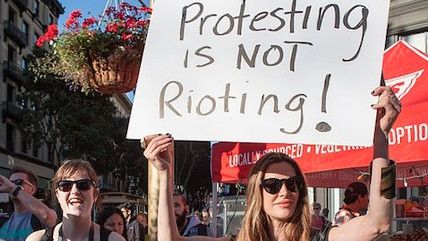 (Pax Ahimsa Gethen/Wikimedia Commons)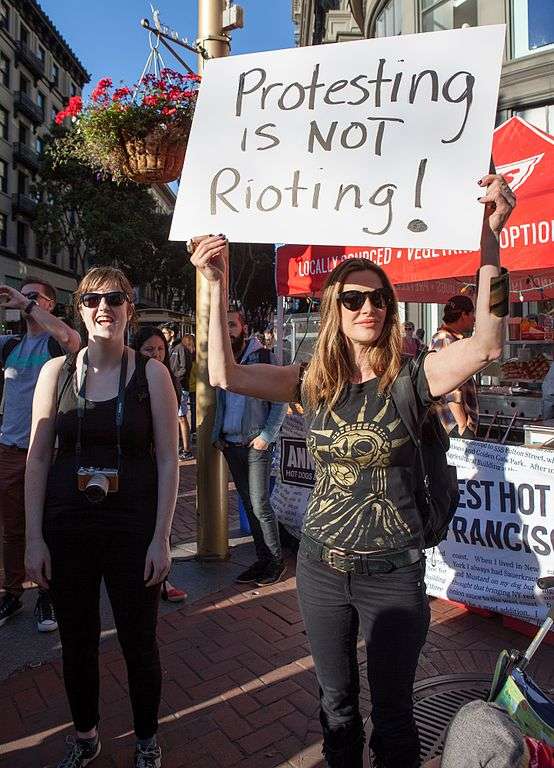 Two journalists covering the protests coinciding with Donald Trump's inauguration have been charged with felony rioting, charges that could land them 10 years in prison and up to a $25,000 fine.
Evan Engel, a senior producer for Vocativ, and Alexander Rubenstein of RT America were among numerous arrests made at a large gathering of protesters near the intersection of 12th Street and L Street in Washington, D.C. last Friday.
According to The Guardian, Engels' arrest report reads in part:
"The crowd was observed enticing a riot by organizing, promoting, encouraging, and participating in acts of violence in furtherance of the riot," the police narrative said. "The crowd was observed braking [sic] windows, lighting fires, vandalizing police vehicles, burned a limousine, and other acts of violence. The damaged was determined to excess $5,000.00."
That last part is important, because under the DC criminal code, when property damage exceeds $5,000, the most serious rioting charges are applied. A spokesman for Vocativ said in a statement that Engel's arrest is "an affront to the First Amendment and journalistic freedom" and that they will help Engel fight the "unfounded and outrageous charge."
Rubenstein's Twitter feed shows that he was trailing black bloc demonstrators who at various points in the day were lighting fires, breaking windows, blocking Trump supporters from moving freely, and occasionally throwing punches. Rubenstein says he showed his press credentials and camera to police, but he was arrested as part of the sweep anyway.
The Metropolitan Police said in a statement that "Pepper spray and other control devices were used to control the criminal actors and protect persons and property."
Here is the flash grenade they used that blinded me and left my ears ringing. Cops encircled crowd when I couldn't see; arresting everyone pic.twitter.com/bL2ulgv9DR

— Alexander Rubinstein (@AlexR_DC) January 20, 2017
One journalist who was not charged with any crime was Natasha Lennard, who penned a popular article for The Nation wherein she writes about how she actively participated in the "anti-capitalist, anti-fascist bloc" which rejected "polite protest" in favor of tactics such as "human blockades, smash[ing] corporate windows, trash-can fires, burning [a] limousine, "Make America Great Again" caps reduced to ashes," and of course, sucker-punching the loathsome alt-right leader Richard Spencer.
There's a lot to unpack here. Journalists need to be able to cover protests and they can't adequately report on them from a distance. Being close to the action should not make someone subject to arrest, and President Trump's oft-stated hostility to a free press raises reasonable concerns that reporters could face collective punishment for getting "too close" to a story, so to speak.
At the same time, police have an obligation to protect public safety and quell riots. And while one can be a journalist and an activist at the same time—one can't claim press freedoms should shield them from arrest if they are actively participating in committing crimes.
Both Engel and Rubenstein have court dates set for February.