Why We Need School Choice: "Obama Administration Spent Billions To Fix Failing Schools, And It Didn't Work"
The final report on a much-touted intervention lays out the need for a decentralized approach to K-12" education reform.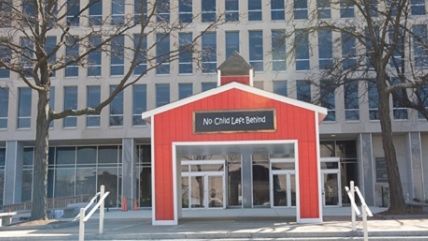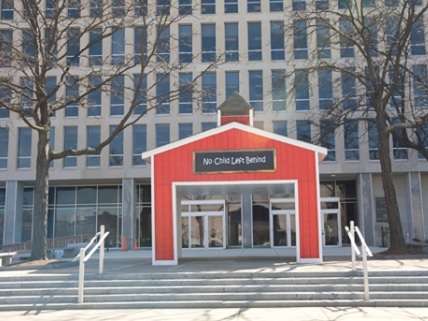 Welcome to National School Choice Week, an annual event promoting the ability of parents and students to have greater options in K-12 education!
Over 21,000 events involving almost 17,000 schools from all 50 states will take place over the coming days. Go to the organizers' page to get more information about events and data showing how increasing school choice—charters, vouchers, educational savings accounts, and more—is one of the best ways to improve education for all Americans.
As a proud media sponsor of National School Choice Week, Reason will be publishing daily articles, podcasts, videos, interviews, and other coverage exploring the ways in which education is being radically altered and made better by letting more people have more choices when it comes to learning. For a constantly updated list of stories, go to Reason's continuously updated archive page on "school choice."
The headline to this post comes from a Washington Post article summarizing "one of the signature efforts in education" by President Obama. It "pumped billions of federal dollars into overhauling the nation's worst schools, failed to produce meaningful results." Worse still, the implementers of the plan didn't even really track things closely, so we can't talk with much precision about what happened, other than money going out the door.
Failing schools were defined as having terrible graduation rates and/or bad grade-level test scores in reading and math. The "School Improvement Grants" program (SIG) asked recipient institutions to pick one of four strategies to achieve significant progress: "Replacing the principal and at least half the teachers, converting into a charter school, closing altogether, or undergoing a "transformation," including hiring a new principal and adopting new instructional strategies, new teacher evaluations and a longer school day." Among other failures, the report notes that analysts didn't actually track how schools used the money (up to $2 million a year for five years), only the broad strategy they employed. Overall, the program cost $7 billion, making it almost twice as big as the more ballyhooed "Race To the Top" initiative.
Read the study online here. It encapsulates much of what is wrong with most forms of education reform emanating from Washington. There's a pile of money that gets targeted at bad schools, constraints placed on how the money can be spent, and weak follow-through in terms of implementation and evaluation. From the report's findings:
Key findings included:
Although schools implementing SIG-funded models reported using more SIG promoted practices than other schools, we found no evidence that SIG caused those schools to implement more practices. Our descriptive analysis found that schools implementing a SIG -funded model used significantly more SIG-promoted practices than other schools (22.8 of the 35 practices examined [65 percent] versus 20.3 practices [58 percent], a difference of 2.5 practices). Our more rigorous RDD analysis found a similar difference of 3.3 practices, but it was not statistically significant. Therefore, we are unable to conclude that SIG caused the observed difference in use of practices.
Across all study schools, use of SIG-promoted practices was highest in comprehensive instructional reform strategies and lowest in operational flexibility and support. In the comprehensive instructional reform strategies area, study schools reported using, on average, 7.1 of the 8 SIG -promoted practices examined (89 percent). In the operational flexibility and support area, study schools reported using, on average, 0.87 of the 2 SIG-promoted practices examined (43 percent).
There were no significant differences in use of English Language Learner (ELL)-focused practices between schools implementing a SIG-funded model and other schools.
Overall, across all grades, we found that implementing any SIG -funded model had no significant impacts on math or reading test scores, high school graduation, or college enrollment.
When we compared student achievement gains from different models in elementary grades (2nd through 5th), we found no evidence that one model was nassociated with larger gains than another. For higher grades (6th through 12th), the turnaround model was associated with larger student achievement gains in math than the transformation model. However, factors other than the SIG model implemented, such as baseline differences between schools implementing different models, may explain these differences in achievement gains.
SIG programs didn't begin with the Obama administration and, sadly, they might not end with it, either. Indeed, the worst part might be that even though the program hasn't worked to improve the schools the receive funds from it, it will inevitably be trotted out again and again as a useful tool.
Which isn't to say that K-12 educational reform is impossible. Far from it. As Lisa Snell, director of education policy at Reason Foundation (the nonprofit that publishes this website), wrote in 2010, there are many reforms that can help transform failing public schools almost immediately, from student-based budgeting, in which money follows students rather than students having to attend particular schools in particular places; giving prinicipals more autonomy and responsibility when it comes to curriculum and staffing; closing perpetually failing schools, ending residential assignment, and embracing open enrollment so that any student can attend any school in a given district. Regardless of what happens inside their walls, Snell writes, most K-12 districts are still run as if America is in the 1950s. There are massive and redundant bureaucracies and regulations, none of which are geared to serving students. The powers-that-be are understandably resistant to leveling pyramids over which they rule, but that's why schools continue to languish despite smaller class sizes and higher rates of per-pupil spending.
To kick off National School Choice Week last year, Lisa Snell and I crossed the country with a multi-media lecture that we titled "Reason Calls B*llshit on Public Education Abuses." Extra credit if you can guess what letter the asterisk is for. Watch now: