Trump Brings Back Ban on Funds for Groups That Promote Abortion, While Congress Reconsiders Global Anti-Prostitution Pledge
Here we go again, and again, and again...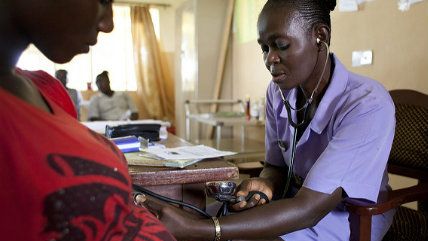 On his first Monday in office, Donald Trump signed executive orders instituting a hiring freeze for all federal government positions outside the military and reinstating a ban on international aid going to nonprofits that provide abortions or promote information on them, regardless of what other services they offer. The contentious abortion rule represents a back and forth that's been taking place under Republican and Democratic administrations since the 1980s. Known as the "Mexico City Policy," it was instituted under President Ronald Reagan, reversed by Bill Clinton, restored by George W. Bush, and again reversed by Barack Obama.
Not to be confused with the 1973 Helms Amendment, which bans groups from using U.S. government funds directly for abortion services abroad, the Mexico City Policy targets broader conduct, requiring that "as a condition of their receipt of federal funds," groups must agree to "neither perform nor actively promote abortion as a method of family planning in other nations."
A diverse group of more than 100 public health, women's issues, and civil liberties organizations have already issued a statement opposing the return of the Mexico City Policy, which they refer to as "the global gag rule." "The global gag rule … interferes with the doctor-patient relationship by restricting medical information healthcare providers may offer, limits free speech by prohibiting local citizens from participating in public policy debates, and impedes women's access to family planning by cutting off funding for many of the most experienced health care providers who chose to prioritize quality reproductive-health services and counseling over funding that restricts care and censors information," it says. Groups endorsing the statement include the American Civil Liberties Union, the American Congress of Obstetricians and Gynecologists, Amnesty International USA, the National Organization for Women, the Alliance to End Slavery & Trafficking, the Unitarian Universalist Women's Federation, the International Medical Corps, New York University's Global Justice Clinic,and Human Rights Campaign.
The Mexico City Policy is one of several federal aid conditions that have been contingent on controversial social issues. Since 2003, the U.S. has banned groups that get grants to fight HIV/AIDs and/or human trafficking from supporting the decriminalization of prostitution. Referred to as the anti-prostitution pledge, the policy was proposed for anti-HIV groups as part of Bush's "Emergency Plan for AIDs Relief," passed by Congress in May 2003 as the "United States Leadership against HIV/AIDS, Tuberculosis, and Malaria Act." It stipulated that no grant money could be used "to promote or advocate the legalization or practice of prostitution or sex trafficking" nor to "provide assistance to any group or organization that does not have a policy explicitly opposing prostitution and sex trafficking."
The anti-prostitution pledge was also part of the bipartisan 2003 reauthorization of the Trafficking Victims Protection Act (TVPA), which stated that no federal money "may be used to promote, support, or advocate the legalization or practice of prostitution" and no funds "may be used to implement any program" by an organization that "has not stated in either a grant application, a grant agreement, or both, that it does not promote, support, or advocate the legalization or practice of prostitution."
Many public-health and human-rights groups opposed these policies on the grounds that decriminalizing prostitution is often supported as a means to stop the spread of sexually-transmitted infections and sex trafficking by force, fraud, or coercion. The pledge was initially applied only to foreign nonprofits, but in 2005 the Bush administration began applying it to U.S. groups, too.
In 2013, the U.S. Supreme Court ruled that the part of the pledge requiring anti-HIV/AIDs groups to explicitly denounce prostitution was unconstitutional as it violated the First Amendment. "This case … is about compelling a grant recipient to adopt a particular belief as a condition of funding," wrote Chief Justice John G. Roberts Jr.. The problem with the second part of the rule was that it didn't just put limits on "the activities Congress wants to subsidize" but sought "to leverage funding to regulate speech outside the contours of the program itself."
Despite this ruling, the Obama administration continued to apply the anti-prostitution pledge to international groups, prompting another round of legal battles. These culminated in a 2015 Supeme Court case stipulating that the rule couldn't be enforced domestically or internationally.
This year, U.S. Rep. Randy Hultgren (R-Illinois) is reintroducing previously failed legislation to insert a different sort of anti-prostitution pledge into federal law. Each year, the U.S. Department of State (DOS) issues a "Trafficking in Persons" report to assess how well other countries are doing at fighting sex and labor trafficking and uses these grades to assess which countries we will do which sorts of business with or bestow aid upon. Hultgren's bill would require DOS to look at what countries are doing to end "demand" for prostitution more broadly—not just combat forced prostitution—via the implementation "serious and sustained efforts" to target commercial-sex clients and to criminalize the sex trade overall.
The measure, called the Sex Trafficking Demand Reduction Act, "affirms that if the government of a country has the authority to restrict or prohibit the purchase of commercial sex acts and fails to do so, it would be deemed a failure on the part of that government to make a serious and sustained effort to reduce the demand for commercial sex acts despite other efforts it may be undertaking to fight human trafficking." It is co-sponsored by Democratic Rep. Chris Smith (New Jersey) and Carolyn Maloney (New York) and Republican Reps. Chris Smith (New Jersey), Robert Pittenger (North Carolina), Alex Mooney (West Virginia), Brett Guthrie (Kentucky), and Tim Walberg (Michigan).