Louisiana Police Chief: Resisting Arrest is Now a Hate Crime Under State Law
"Stop resisting!" becomes "Stop committing a hate crime against my profession!"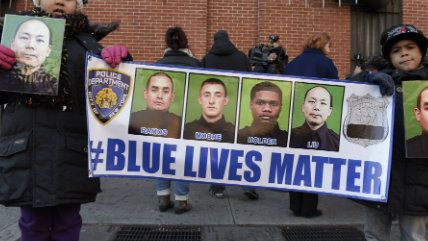 (Andrew Katz/ZUMA Press/Newscom)
A Louisiana police chief says the state's new "blue lives matter" law, which makes it a hate crime to target a police officer, extends to simply resisting arrest.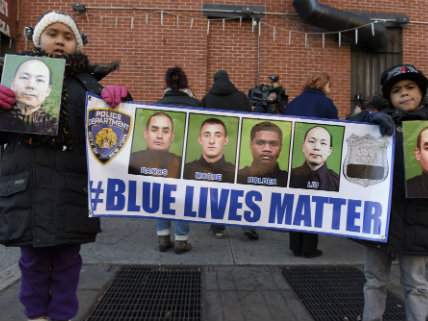 The law was enacted last year as part of a surge of similar legislation introduced around the country following several high-profile ambushes and deadly attacks against police officers, including a Baton Rouge shooting that left three police dead. While many states enhanced the penalties for assaulting police officers, Louisiana became the first state in the U.S. to make police a protected class under hate-crime laws when the governor signed the legislation into law in May.
A New Orleans man was the first person to be charged under the new law last September for allegedly shouting racial and sexist slurs at police. But now, at least one local police chief thinks those protections extend even further.
Louisiana's KATC reports:
St. Martinville Police Chief Calder Hebert hopes the law will not only save lives, but make offenders think twice before resisting arrest.

"We don't need the general public being murdered for no reason and we don't need officers being murdered for no reason. We all need to just work together," said Hebert.

Hebert is very familiar with the new hate crime law, having already enforced it since it took effect in August.

"Resisting an officer or battery of a police officer was just that charge, simply. But now, Governor Edwards, in the legislation, made it a hate crime now," said Hebert.

Under the new law, Hebert says any offender who resists, or gets physical, with an officer can be charged with a felony hate crime.
Those convicted of felony hate crime in Louisiana face a fine of up to $5,000 or a five-year prison sentence, while a hate-crime charge tacked onto a misdemeanor is punishable by a $500 fine or six months in jail.
It's notoriously easy to be charged with resisting arrest, so much so that police departments across the country often consider a large number of resisting arrest charges as a potential red flag for officer misconduct. For example, a WNYC investigation found that just 5 percent of NYPD officers accounted for 40 percent of the 51,503 resisting arrest charges filed between 2009 and 2014. Several of those officers had a history of excessive force complaints and civil rights lawsuits being filed against them.
Of course, there is the question of how a prosecutor could prove that a person resisting arrest was doing so specifically because he or she hated the police. It seems doubtful that widespread application of Hebert's, shall we say, novel legal theory would survive any sort of scrutiny. But then, that would seem to be an underlying problem with the whole notion of extending hate-crime protections to a profession. That's one of the reasons the Anti-Defamation League and other groups that generally support hate crime laws opposed the bill when it was introduced.
Here's what the ADL said when the bill was sailing through the Louisiana legislature:
ADL strongly believes that the list of personal characteristics included in hate crimes laws should remain limited to immutable characteristics, those qualities that can or should not be changed. Working in a profession is not a personal characteristic, and it is not immutable. As a society, we make great efforts to help protect law enforcement and ensure they receive justice. Additionally, ADL is concerned that expanding the characteristics included in bias crime laws may open the door to a myriad of other categories to be added and simultaneously dilute current hate crimes legislation. This bill confuses the purpose of the Hate Crimes Act and weakens its impact by adding more categories of people, who are better protected under other laws.
Or, for a slightly more critical take on hate crime enhancements in general, here's my colleague Scott Shackford, writing about the New Orleans man charged with hate crimes for shouting slurs at the police:
As somebody who has read many, many, many reports of anti-gay assaults and violence over the years, I just want to point out that while it probably looks clear to everybody outside the police that this wasn't a hate crime (again, regardless of a position on hate crime laws), what do people consider when evaluating the credibility of hate crime claims against other minorities? Things like whether the person assaulting a gay person or other minority shouted bigoted slurs, just like Delatoba did here. That is one of the factors used to decide that a crime is motivated by hate, and many supporters of hate crime laws get very, very upset when police don't immediately accept that hate speech as evidence that a hate crime occurred. But since we don't have the ability to read minds, what hate crime enhancements often actually do is add additional punishment based on what people say or express while committing a crime.