A.M. Links: Today Is Obama's Last Full Day as President, Rick Perry Confirmation Hearings Begin, George H.W. Bush in 'Stable Condition'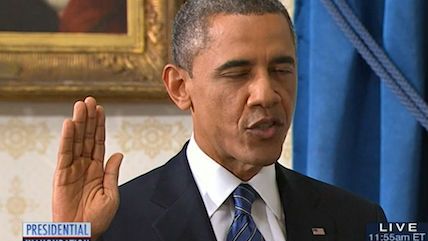 C-SPAN

Today is Barack Obama's last full day as president. Donald Trump will be inaugurated tomorrow.

"Washington will turn into a virtual fortress ahead of Donald Trump's presidential inauguration on Friday as the U.S. capital braces for more than a quarter-million protesters expected during the Republican's swearing-in."
Confirmation hearings begin today for former Texas Gov. Rick Perry, Trump's nominee to head the Department of Energy.
Former President George H.W. Bush is reportedly in "stable condition" in the intensive care unit at Houston Methodist Hospital.
At least 30 people are missing after an avalanche buried a hotel in the Abruzzo region of central Italy.
At least 50 firefighters have died battling a massive fire at a high-rise building in Tehran, Iran.
Follow us on Facebook and Twitter, and don't forget to sign up for Reason's daily updates for more content.