Betsy DeVos Grilled, Will Julian Assange Turn Himself In?, George H.W. Bush Hospitalized: A.M. Links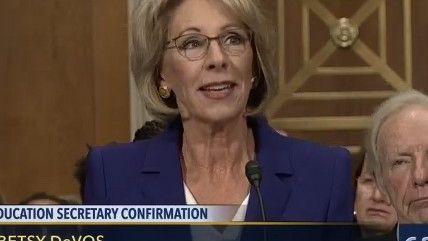 C-SPAN

Secretary of Education nominee Betsy DeVos was asked by Sen. Bernie Sanders (I-Vt.) if she thought her wealth and donations to the Republican Party are the reasons she was nominated.

DeVos gave Sanders a zinger of her own, by reminding him that regarding his call for tuition-free college, "there's nothing in life that's truly free."
She also suggested that guns might be necessary in schools because of the threat posed by bears.
WikiLeaks founder Julian Assange pledged to turn himself in if Chelsea Manning was granted clemency. Will he make good on his promise?
Former President George H.W. Bush has been hospitalized with breathing problems.
Russian President Vladimir Putin calls those who disseminate "fake news" about President-elect Trump are "worse than prostitutes."
This year's inductees into the Baseball Hall of Fame will be announced today.