New Report Highlights Horrific Impact of Solitary Confinement on Inmates with Disabilities
"I don't know what stopped me from beating my head on those bright, white walls."
(Robin Nelson/ZUMApress/Newscom)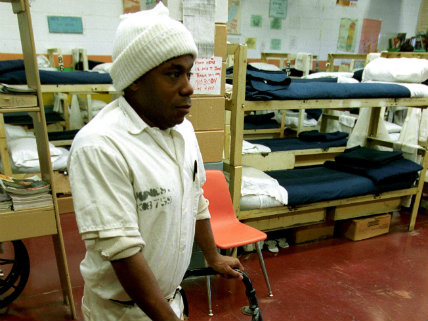 The effects of solitary confinement on inmates can be long-lasting and destructive, but they can be even more devastating to inmates with disabilities, according to a new report released Thursday by the American Civil Liberties Union.
Over the past several years, there has been a growing outcry to limit or abolish the use of solitary confinement, which critics say amounts to torture and can have permanent psychological impacts on inmates. The Obama administration, for instance, banned the use of solitary confinement on juvenile inmates in the federal prison system. The ACLU report, "Caged In: Solitary Confinement's Devastating Harm on Prisoner's With Physical Disabilities," sheds light on the unique challenges that inmates with disabilities face in solitary.
"The current and formerly incarcerated people with disabilities who we spoke with described their experiences of enduring extreme isolation for days, months, and even years," the report says. "They shared the pain and humiliation of being left to fend for themselves in solitary confinement without wheelchairs, prosthetic limbs, or other necessary accommodations to carry out life's basic daily tasks. Without these vital accommodations, many of them were left without the means to walk, shower, clothe themselves, or even use the toilet."
Despite the passage of the federal Americans with Disabilities Act (ADA) in 1990, which guarantees equal access and protections to those with disabilities, the report says inmates with disabilities are sometimes placed in solitary confinement for no other reason than a lack of other adequate housing.
One case cited in the report is former Oregon inmate Dean Westwood, who is paralyzed from the chest down and relies on a motorized wheelchair for mobility. Westwood pled guilty in 2014 to Medicaid fraud and tax evasion and was sentenced to a year and a half in prison. During Westwood's sentencing, prosecutors assured the court that Oregon prisons were ADA compliant and had adequate facilities to house him.
Westwood says he was placed in isolation at the infirmary of Coffee Creek Correctional Facility in Wilsonville, Oregon for 22 to 23 hours a day for 17 days. He says the staff were unprepared to deal with his needs, and for the first 48 hours of his imprisonment he was not given his prescribed medications to prevent painful muscle spasms and control his bowels. He ended up soiling himself.
"Shit, I just figured that's how it was," Westwood says in an interview with Reason. "You get thrown in prison, and they can do whatever the fuck they want to you. I suppose I should have known better, but I was just scared and trying to wrap my head around all this. The walls were white cinder block. I don't know if you've ever been inside, but in a small space like that you can physically feel the walls caving in on you. At one point I remember thinking that if I beat my head on this wall really hard, it will either knock me out, or maybe I'd hit it hard enough that I wouldn't wake up. That was constant. To this day I don't know how I got through. I don't know what stopped me from beating my head on those bright, white walls."
He was later transferred to another facility where he says he was isolated in an infirmary with no access to the law library, the rec yard, or any of the programs that offer chances for reduced sentences.
According to the ACLU report, inmates with disabilities placed in solitary, even if for no punitive reason, have little access to the programs and social interaction that inmates in the general population enjoy. And they can often be denied physical therapy and other regimens that keep their bodies from deteriorating further.
Westwood sent a "kite"—prison slang for a written message—to his case manager, asking why he was being kept in isolation. The response he says he eventually received: "We can put you wherever we want, whenever we want."
He was later transferred to the Oregon State Penitentiary, where other inmates act as assistants to those with disabilities.
"Here I am as a level one, the lowest security risk, with level four and fives providing my assistance. Murderers, rapists, and arsonists," Westwood says. "Just because they didn't have accessible housing they jammed me in with criminals way above my security ranking. Then I was vulnerable. I was assaulted by a guy who took a disliking to me. He was down for murder. I took two beatings. When you're caught in the wrong spot, there's no staff around. I was fortunate I lived."
Inmates with disabilities, especially in facilities where they are assigned other inmates as assistants, can become targets. A 2013 report on the Tomoka Correctional Institution in Florida by HEARD, an advocacy group for deaf prisoners, documented numerous allegations of sexual assault, rape, theft, retaliation by staff, and general cruelty against inmates with disabilities.
The Oregon Department of Corrections and the prosecutor in Westwood's case did not immediately return requests for comment.
Westwood's case is only one of many documented by the ACLU in the report. The ACLU located one inmate who said he was placed in solitary confinement for two weeks for not responding to a command he could not hear.
In 2016, a judge ordered Washington, D.C. Department of Corrections to pay a deaf inmate, William Pierce, $70,000 in damages for failing to provide adequate accommodations. Pierce claimed he was not provided with a sign language interpreter and could not communicate with corrections or medical staff. When he persisted in trying to obtain an interpreter, he said he was thrown in solitary confinement as retaliation.
In 2014, Los Angeles County settled a lawsuit brought by disabled inmates who described soiling themselves because the jail bathrooms were not wheelchair accessible and had no grab bars. They also claimed they were given wheelchairs with non-functioning brakes.
And for those with hearing or visual impairments, the ACLU says the profound isolation of solitary confinement can become almost total. Reading and finding inventive ways to communicate with each other are some of the only ways inmates can pass time in solitary, but deaf or blind inmates might have neither.
"Deaf and blind prisoners reported that prison officials failed to provide them with access to hearing aids, Braille materials, certified sign language interpreters, or other auxiliary aids and services that are necessary to facilitate meaningful communication," the report says. "As a result, many prisoners reported being left completely isolated without any ability to communicate with other prisoners, staff, family members, and other visitors."
There is no publicly available data on the number of inmates with disabilities placed in solitary confinement, but the significant percentage of inmates with disabilities in the system overall suggest they are similarly represented in solitary confinement. For example, around 20 percent of Florida state prison inmates have some sort of assistive device or require special accommodations, according to the report. About 1 in 10 inmates in California have a hearing, visual, or mobility-related impairment.
The ACLU recommends that corrections officials ban the placement of inmates with disabilities in solitary for lack of other adequate housing and track the use of solitary for such inmates. It also recommends that the Justice Department audit state prisons to ensure they are ADA compliant.