Priebus Says Trump Accepts Intel Community's Russia Conclusions, Obama Insists He Didn't Underestimate Putin, Red Nova Could Occur Within Five Years: A.M. Links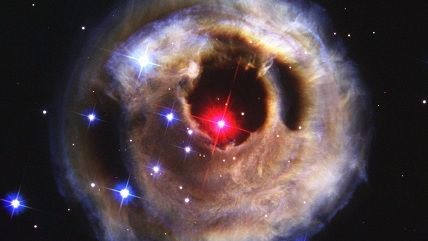 NASA/ESA

Reince Priebus says Donald Trump accepts the intelligence community's conclusion about Russia's role in election-related cyber attacks. Barack Obama insisted in an interview on ABC News that he did not underestimate Vladimir Putin but may have underestimated the impact of "cyberhacking and so forth on our open societies". Obama also said he and the president-elect were "sort of opposites," and that he takes "some responsiblity" for the massive electoral losses the Democratic Party suffered during his presidency. 89-year-old Charlie Brotman, who has announced every presidential inauguration parade since Dwight Eisenhower in 1957, is being replaced by a younger Trump supporter. Hillary Clinton attended a performance of The Color Purple and received three standing ovations.

Mitch McConnell says Senate Democrats have to "grow up" and let Trump's cabinet nominees be confirmed.
Benjamin Netanyahu says the suspect in a attack by truck in Jerusalem that killed 4 may have supported ISIS.
Mexican authorities have arrested an American citizen accused of shooting a U.S. consulate official in Guadalajara.
Free speech arrests are on the rise in Myanmar, whose head of government is now Nobel Peace Prize recipient Aung San Suu Kyi.
California funded the first sex reassignment surgery for an inmate in the U.S., although the federal government could end up paying for up to 95 percent of the costs.
The two stars of the KIC 9832227 binary system could collide, causing a red nova, within the next five years, says one astronomer.
A self-described UFO skeptic in Canada says he can't identify a flying object that looks like a Star Trek starship.
La La Land won a record breaking seven awards at the Golden Globes.
Journalist Nat Hentoff died aged 91.
Follow us on Facebook and Twitter, and don't forget to sign up for Reason's daily updates for more content.