Is Sugar an Addictive Killer? New at Reason
Ronald Bailey reviews The Case Against Sugar.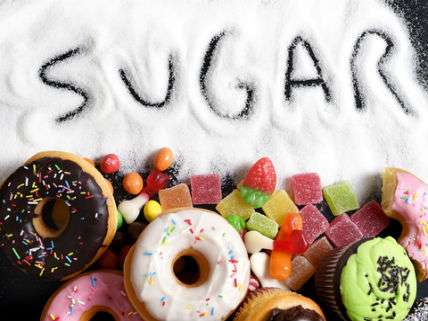 Less than 1 percent of Americans—1.6 million people—were diagnosed with Type 2 diabetes in 1958. As of 2014, that figure had risen to 9.3 percent, or 29.1 million. If current trends continue, the figure could rise to more than 33 percent by 2050. Something has clearly gone wrong with American health.
The rising rate of diabetes is associated with the rising prevalence of obesity. Since the early 1960s, the percent of Americans who are obese—that is, whose body mass index us greater than 30—has increased from 13 percent to 35.7 percent today. (Nearly 70 percent of Americans are overweight, meaning their BMIs are over 25.) Roughly put, the prevailing theory is that rising fatness causes rising diabetes.
But what if both are caused by something else? Eating way too much sugar.