Hillary Clinton Likely Lost Because More Democrats Stayed Home
Third party voters were blamed for Trump's election, but Clinton's inability to motivate her own party's voters was a far greater factor in her defeat.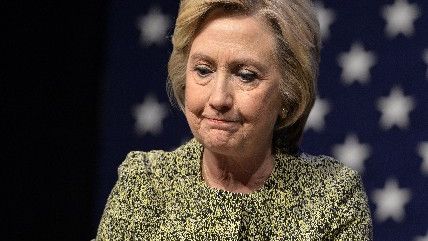 (Ann Parry/ZUMA Press/Newscom)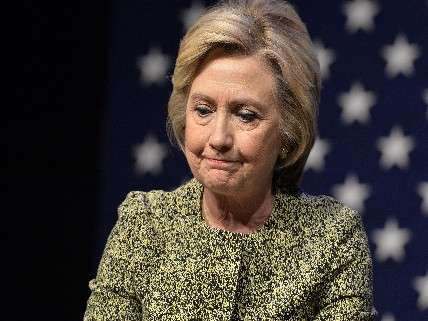 Stop the presses. Turns out it wasn't Gary Johnson, Jill Stein, and Evan McMullin that cost Hillary Clinton her spot in the Oval Office, it was the fact that a significantly greater number of registered Democrats than Republicans just stayed home rather than cast a ballot for the former secretary of state.
Of the approximately 100,000 registered voters who took a post-election SurveyMonkey poll, over 3,600 were non-voters, according to FiveThirtyEight. Unsurprisingly, about 90 percent of registered Democrats and Republicans voted for their party's candidate, and the data also shows a preference for unaffiliated voters for Clinton—which is partly why the conventional wisdom narrative immediately formulated around the theory that third party voters had selfishly denied Clinton her rightful ascendance to the presidency.
But hang on. All the ballots cast for third party candidates combined only amounted to a little more than about 7,000,000, yet according to the SurveyMonkey poll, 35 percent of registered voters who didn't vote self-identified as Democrats. Self-identified Republicans who didn't vote amounted to only 32 percent of the total. FiveThirtyEight summarizes the consequences here:
That means that had the non-voters cast a ballot in accordance with their party identification, Clinton's advantage over Trump nationally would have expanded by about 2 to 3 percentage points. That almost certainly would have been enough to flip enough states for her to win the Electoral College.
Throughout 2016, polls indicated that voters found Trump and Clinton to be the least popular major party presidential candidates in history, and this latest poll confirmed that dislike of both candidates was the biggest factor for non-voters in deciding to opt out of the choice. The SurveyMonkey poll also showed Trump and Clinton earning favorability ratings in the low 30s among non-voters, and only in the low 40s among people who actually voted for one of them.
Clinton was unable to motivate key Democratic demographic groups to vote for her. The poll found that non-whites amounted to about 42 percent of non-voters, but just 25 percent of voters. Worse for Clinton, black voters abandoned her in dramatic numbers. In 2016 black non-voters outnumbered black voters—a reverse of 2012's results—and 46 percent of black voters under the age of 30 (who tended to favor Bernie Sanders to Clinton far more than older black voters) did not vote in this past election.
Trump, for his part, was able to turn out significantly higher numbers of white voters without a college degree than Mitt Romney did in 2012, which FiveThirtyEight writes is "pretty remarkable that a group of voters that is shrinking as a percentage of the population made up a larger share of the electorate in 2016 than in 2012."
It's unlikely this inconvenient (for Clinton supporters) data will change any minds about which non-compliant voters cost Clinton "her turn" in the White House. After all, almost two decades later Democrats are still blaming Ralph Nader for costing Al Gore the 2000 election, but have engaged in precious little soul-searching over the fact that Gore lost his own state or that more Florida Democrats voted for George W. Bush than Nader by a factor of 12:1.
But the data is there in case Democrats ever want to consider that candidates matter, and not just the candidate you're running against.