Megyn Kelly Flees Fox for NBC, GOP Drops Ethics Office Battle, Trump Children Descend on D.C.: P.M. Links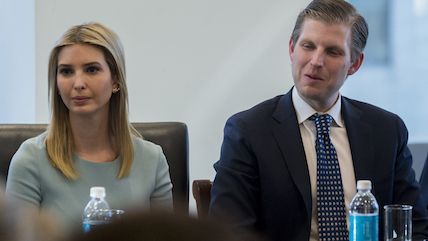 (Albin Lohr-Jones/dpa/picture-alliance/Newscom)
Albin Lohr-Jones/dpa/picture-alliance/Newscom

Megyn Kelly is leaving Fox News in order to join NBC, where she will host a daytime program and a Sunday evening news show.

House Republicans are no longer trying to destroy the Office of Congressional Ethics.
Rhode Island College required students to devote themselves to "the value of social and economic justice."
But there's not a free speech problem on college campuses, oh no, that's crazy talk.
Rice University will make freshman take a five-week class on sex, relationships, and consent.
Ivanka Trump and Jared Kushner are moving to D.C. Their new home is a three-minute walk from President Obama's new home.