Carrie Fisher—Forever Associated with Star Wars—Dead at 60
For better or worse, part of one America's biggest movie franchise juggernauts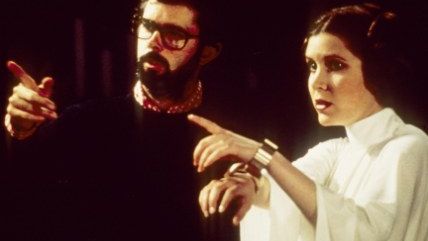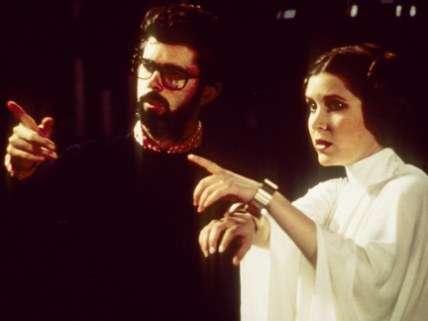 Carrie Fisher, a.k.a. Princess Leia Organa, died today at the age of 60. She suffered a heart attack on Friday while flying from London to Los Angeles. She subsequently died in a hospital this morning, according to a statement passed along by family.
Fisher will, of course, forever be associated with the original Star Wars trilogy, and her return to it in its recent purchase and reboot by Disney. She did so much more (books and shows and interviews), but Leia made her famous. The princess she played—who was both famously eroticized in an absurd bikini but also hard as nails and refused to embrace helplessness—is still and will probably for a very long time be part of a culture discussion about how women are represented in the science fiction and adventure genres.
There's been a lot of discussion about how many celebrities have died in 2016: Prince, Gene Wilder, David Bowie, and George Michael just died Christmas morning. There's a general "feeling" that 2016 has been a particularly bad year for celebrities passing away. I'm not of a mind to actually research whether it's factually true. What is clear is that as Gen. Xers approach midlife, we are seeing the passing of the performers that were so influential to our childhoods. Fisher's Leia most certainly played a role in the early sexual awakenings of a number of Gen. X boys (and girls!) back in the day. (Fisher did nothing for me … but don't get me started on Michael's video for "Faith." I spent a good chunk of the weekend listening to "Freedom" and "One More Try")
Though I haven't stuck with Star Wars the way many of my 40-something peers have, I did have a stuffed R2-D2 toy I slept with as a little kid in the 1970s from the first iteration of Star Wars merchandising that contributed to its role as a cultural juggernaut. As Disney rebooted the movies with The Force Awakens, Reason magazine focused on the sticking power of "the greatest movie franchise ever."
Watch ReasonTV on Star Wars below. Without spoiling, those who have seen Rogue One out in theaters right now might have a little bit of an idea what Disney may be able to accomplish even without Fisher. Whether that's actually a good thing or a bad thing is certainly going to be a focus of debate: