Trump Tweets About Nukes, Ivanka Harassed on Flight, Suspect Sought in German Truck Attack: P.M. Links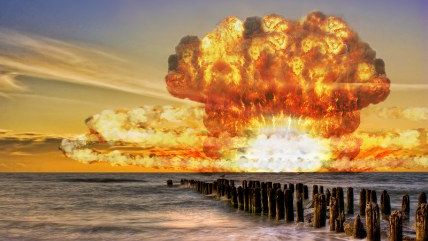 (Sdecoret / Dreamstime.com)
Sdecoret / Dreamstime.com

President-Elect Donald Trump tweeted that America should expand its nuke program until the rest of the world "comes to its senses" on nuclear weapons.

Ivanka Trump was harassed by a passenger on a JetBlue flight. The passenger was booted off after apparently yelling at her that her father was "ruining the country."
When a black church in Mississippi was burned in November, people believed/assumed it was a hate crime. Now authorities have arrested a parishoner they accuse of setting it.
Florida's Supreme Court ruled today that more than 200 people on death row were given unconstitutional sentences. This is a result of a previous U.S. Supreme Court decision that declared the way the state implemented the death penalty was unconstitutional.
German authorities are searching properties connected to Tunisian Anis Anri, their suspect in the deadly truck crash attack in Berlin. His fingerprints were found on the truck.
Carl Icahn will be Trump's adviser for overhauling regulations. RNC spokesman Sean Spicer will be Trump's press secretary.
The Syrian military claims the last of the rebels are gone from Aleppo and they've fully recaptured the city.
Follow us on Facebook and Twitter, and don't forget to sign up for Reason's daily updates for more content.