Unexplained Fireworks Market Blast in Mexico, Supervolcano in Naples, Spiders on Mars: P.M. Links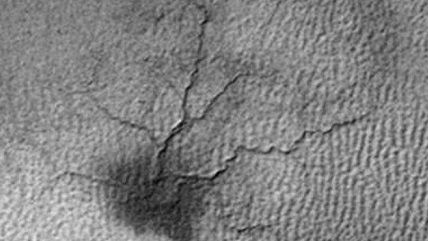 (NASA/JPL-Caltech/University of Arizona)
NASA/JPL-Caltech/U Arizona

President Obama moves to ban oil drilling in large swaths of the Arctic and Atlantic oceans.

A spokesperson for Russia President Vladimir Putin says relations with the U.S. were "frozen" until Donald Trump, from whom they expected a "fresher and more constructive approach," took office. President Obama rejected the assertion.
The migrant who is the primary suspect in the Berlin Christmas market attack had been the subject of a terror probe earlier this year and was rejected for asylum, but was not deported because Tunisia refused to take him back.
U.S.-supplied drones are not living up to expectations in Ukraine.
Eighty percent of the largest fireworks market in Mexico was destroyed in an unexplained blast.
Former Trump campaign manager Corey Lewandowski will be starting a consulting firm.
A supervolcano under Naples may be re-awakening.
Spiders on Mars.
No, Nickelback is not playing the inauguration.