A.M. Links: 12 Dead In Berlin Christmas Market Attack, German Police 'Unsure' If They Have Guilty Suspect in Custody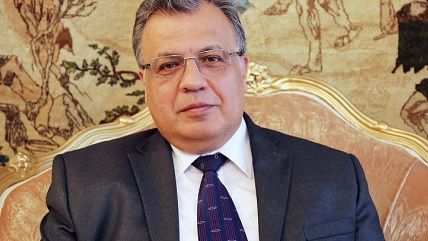 Russian Embassy in Turkey

Russian detectives have arrived in Turkey to assist in the investigation into yesterday's assassination of Russian Ambassador Andrei Karlov.

12 people are now confirmed dead and 48 injured from the Berlin Christmas market attack.
"German police say they are unsure if a man they have in custody was behind Monday's lorry attack in Berlin."
President Barack Obama plans to transfer 17 or 18 Gitmo detainees to Italy, Oman, Saudi Arabia, and the United Arab Emirates.
Poll: 46 percent of Americans "cannot be sure" if Russia hacked the 2016 election.
Tupac Shakur, Pearl Jam, Journey, Joan Baez, and Yes are among the musical acts that will be inducted into the Rock and Roll Hall of Fame in 2017.
Follow us on Facebook and Twitter, and don't forget to sign up for Reason's daily updates for more content.