Architect of Title IX Overreach Appointed to U.S. Commission on Civil Rights, Obama Says Russia Did It, Clinton Blames Comey: P.M. Links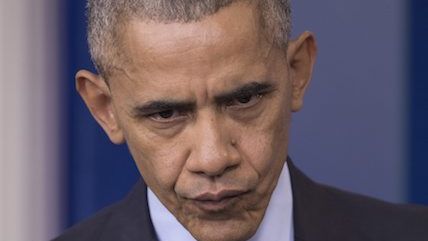 (MICHAEL REYNOLDS/EPA/Newscom)
MICHAEL REYNOLDS/EPA/Newscom

Catherine Lhamon, assistant secretary of the Education Department's Office for Civil Rights and chief architect of the worrying expansion of Title IX-based sexual misconduct tribunals on college campuses, has been appointed to the U.S. Commission on Civil Rights. True story, though: Reason associate editor Robby Soave (me!) was appointed to the D.C. Advisory Committee to the U.S. Commission on Civil Rights.

In his final press conference, President Obama expressed confidence that the Russian government was involved in the alleged hacking of the DNC. He also thought the perception of Democrats as "latte sipping, politically correct" hurt them in the election.
Earlier today, Hillary Clinton blamed her loss on the hack and James Comey.
Columbia University Professor Mark Lilla defended his thesis that liberal reliance on identity politics made them lose.
Female Stanford University alumni push back on administration's scolding of band members for making sexually suggestive comments.