Trump Nominating Rex Tillerson Secretary of State
Exxon-Mobil CEO could become an advocate for liberalization and cooperation as top diplomat.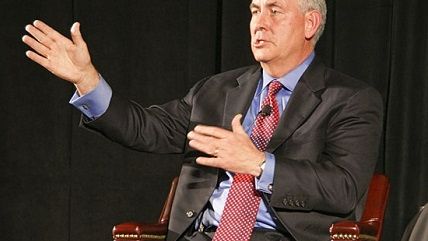 President-Elect Donald Trump announced this morning on Twitter that he intended to nominate Exxon-Mobil CEO Rex Tillerson for the position of secretary of state, calling him "one of the truly great business leaders of the world."
Tillerson has been the CEO of Exxon-Mobil since 2006, and has been with Exxon-Mobil for 41 years, joining as a production engineer. He was expected to retire from the company by March.
Tillerson has often spoke about technological progress bringing the U.S. closer to an era of energy abundance. "We face an urgent need to learn the appropriate policy lessons to fully leverage this historic moment," he said in public remarks in 2014. "We need new policies designed for this new era of abundance not policies based on the fear of scarcity."
In 2012, Tillerson spoke to the Council on Foreign Relations, where he noted the that while energy independence and energy security were used interchangeably in political discussions, they meant different things. "I think what the U.S. policy and what's in the best interest of American consumers has been and should be—is securing access to energy in a reliable, relatively affordable way," he explained. "And if we're able to do that, where it comes from should be of little consequence to us, if it's reliable, if I have a system of policies that ensure I have reliable, affordable sources of energy."
Tillerson added: "If you don't like the people you're buying it from, that's a different issue. That's a different issue." Tillerson has had significant experience on that front, dealing with all kinds of foreign regimes that control access to resources in their countries. Exxon-Mobil has been in a years-long legal battle with Venezuela over its nationalization of oil resources and the status of contracts that pre-dated the Hugo Chavez regime.
In 1998, Tillerson became responsible for Exxon-Mobil's holdings in Russia, subsequently entering the company into agreements with Russia's state-owned oil company, Rosneft. In 2013, he was awarded the Order of Friendship, a decoration bestowed by the Russian government on foreigners it finds have worked to improve relations between their countries and Russia, for Exxon-Mobil's contribution to "developing cooperation in the energy sector."
Exxon-Mobil continued to work in Russia despite sanctions imposed in 2014 in response to Russian aggression in eastern Ukraine and its annexation of Crimea. "Today, commercial success is driven by efficient international cooperation," Putin told the CEO of Rosneft and to ExxonMobil's lead manager in Russia during a video conference call. "Businesses, including Russian and foreign companies, perfectly realize that and despite certain current political difficulties, pragmatism and common sense prevail, and we are pleased to hear that."
The prevailing Russophobic mood today means Tillerson's professional relationships with Russia will be interpreted in an antagonistic way. Sen. John McCain (R-Ariz.) has taken the lead on this. "Vladimir Putin is a thug, bully and a murderer, and anybody else who describes him as anything else is a liar," McCain said on Fox News. Such an attitude runs counter to any diplomatic strategy that privileges friendly, productive relationships over self-serving sanctimony. It's important to remember that Exxon-Mobil was not the only operator unwilling to jeopardize its interests in Russia over a political squabble between Russian and Western leaders—the U.S. government, despite limited sanctions and bombastic rhetoric, continued to cooperate with Russia on matters that mattered to it, like getting to space.
Sanctions are blunt tools that sacrifice economic freedom for the perception of political victory, and rarely actually work. For their targets, they can serve as scapegoats for other domestic problems. Free trade, on the other hand, leads to friendlier relations. Interconnectedness—globalization—doesn't just promote prosperity, it also promotes peace and security. It's similar to what Tillerson touched on in his 2012 CFR speech—energy security comes not from "energy independence" but from a diverse set of sources made possible by policies that promote trade and cooperation. It leaves room for optimism.
In the same 2012 speech, Tillerson expressed hope that energy privatization in Mexico could "open up opportunities for greater partnerships and collaborations and bringing technology to bear on the huge resources" the country had. A secretary of state who advocates for privatization, liberalization, and free markets would be a welcome change from the kind of self-important career politicians who try to pass aimless but persistent interventionism as productive diplomacy.
In a round-up last month of secretary of state appointments Trump could make that wouldn't be so bad, I noted that looking to the private sector was a good idea, and that "the State Department could benefit from being guided by someone with extensive experience in the private sector." Tillerson's confirmation hearing could be illuminating, if they aren't derailed by the kind of Russophobia interventionists like McCain and Sen. Marco Rubio (R-Fla.), who tweeted that a "friend of Vladimir" is not what he was looking for in America's next top diplomat, are already peddling. Republicans will have 52 senators next year, placing Tillerson, at his confirmation hearing, in a position to break the anti-Russian fever that's seen an anti-Trump-fueled resurgence in Washington.