Who Wins From New York's Ban on Airbnb? The Dirtiest Hotel In America
The Hotel Carter is "undeniably, unequivocally, the worst hotel in New York City" but thanks to anti-Airbnb regulations, it's a "winner."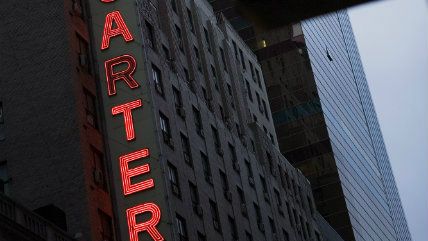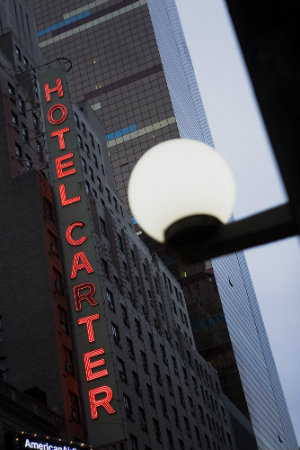 Unless you want to experience New York City the way it was in the 1970s, there's probably not much of a reason to stay at The Hotel Carter, a 700-room budget hotel in Manhattan's Theater District.
The hotel has been named the dirtiest in America (not once, not twice, but three times!) by travel ratings website Trip Advisor. Reviews of the hotel include guest complaints about dirty sheets, bedbugs, and a lack of toilet paper. "I think it would have been cleaner to sleep on the street," reads one review.
The hotel "is undeniably, unequivocally, the worst hotel in New York City," opined the New York Observer in 2014, with online reviews that read "like the script of a bad horror movie." The elevator doesn't work, and there's been at least nine documented deaths there.
It may not have much else going for it, but the nearly 90-year old hotel happens to be in a prime spot, literally steps from Times Square and some of the most famous live entertainment in the world. Manhattan real estate being what it is, The Hotel Carter was purchased last year for $192 million.
Now that New York City has approved regulations that effectively ban most short-term rentals, the Hotel Carter—despite a terrible reputation that would make anyone think twice about staying there—stands to gain.
The hotel was one of the "winners" in a piece published Monday by National Real Estate Investor, a trade publication, asking which properties in New York City stand to gain the most from the ban on Airbnb and similar services in The Big Apple.
"We zoomed in on non-luxury hotels in Hell's Kitchen and the neighboring Theater District that are in the same price range as average Airbnb rentals of similar size, to see which hotels are likely to benefit," explains Ely Razin, who authored the piece.
The Hotel Carter "could stand to gain from a larger share of customers seeking an inexpensive bed in a prime location—especially if it's new owner is able to move the hotel past its status as the three-time winner of TripAdvisor's dirtiest hotel in America survey," Razin wrote.
The hotel and potential buyers might be winners here, but the losers are anyone who can't find better accommodations in New York City because short-term rentals have been squeezed out of the market.
Under the rules passed in October, anyone listing an apartment or home for rent on a website like Airbnb or Home Away can face fines of up to $7,500 per day. Short term rentals were already illegal in the city, but the new rules ban the advertising of such rentals and are seen by advocates as a necessary enforcement mechanism after the outright ban didn't work.
The regulations potentially violate the First Amendment, but a lawsuit launched by Airbnb challenging the short term rental advertising ban was dropped last week after New York City promised that enforcement actions would be carried out against individual property owners, not the San Francisco-based platform.
The other losers, then, are property owners and renters in New York's horrifically expensive real estate market who have lost a potential source of secondary income.
It's no surprise that hotels win when cities regulate short-term rentals out of existence—that's why hotel associations and unions have pushed for these laws in New York and elsewhere.
They know people will still flock to New York City, of course, to see the lights of Times Square and the stars of Broadway. When those tourists come to town, they'll now have fewer options to choose from—but don't worry, at least the Hotel Carter will still be there.