Trump Could Pick Exxon CEO Rex Tillerson for Secretary of State, John Bolton Would Be Deputy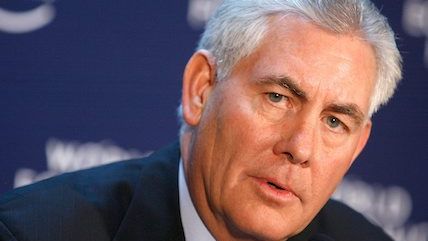 (ALESSANDRO DELLA BELLA/EPA/Newscom)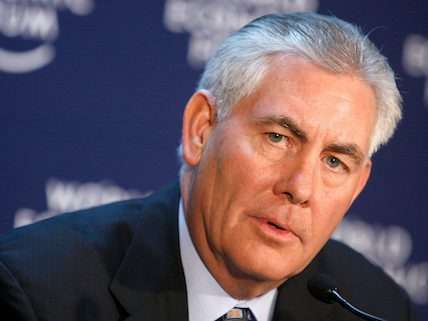 The next secretary of state will be Exxon Mobil CEO Rex Tillerson, NBC News reported. Former U.S Ambassador to the United Nations John Bolton will serve as Tillerson's deputy.
That's according to two unnamed sources within the Trump transition team. NBC was careful to note that nothing is final until President-Elect Trump makes a statement. There's reason for some amount of skepticism, in other words.
The news follows recent unconfirmed reports from the CIA that Russia acted covertly to throw the presidential election to Trump. But, as U.S. Rep. Justin Amash pointed out on Twitter, people should be skeptical of such claims until presented with concrete proof.
As for Tillerson and Bolton, there are good reasons to be concerned about both developments. Tillerson is an incredibly close business partner of Russian President Vladimir Putin. He was even awarded the Russian Order of Friendship in 2012 after negotiating a $500 billion energy partnership with Russia. According to The Hill, that deal has been halted as a result of sanctions levelled against Russia due to Putin's military aggressiveness in Crimea, but Tillerson would now be well-placed to lift those sanctions.
To be clear, lifting economic sanctions is often a good idea—economic interdependence is the foundation of mutual peace and prosperity—and Donald Trump's comparative reluctance to restart the Cold War was one of the better things about his candidacy. But Tillerson's very direct business interests are hopelessly entangled with the Russian state, and his selection creates a real possibility for diplomacy based upon crony corporatism. The U.S. should be less hawkish toward Russia because it's the smart thing to do, not because it enriches the mega-corporation recently helmed by the secretary of state.
Then there's Bolton. As Daniel Larison writes at The American Conservative, "The fact that Bolton is receiving a top job anywhere in the administration is an indictment of Trump's judgment and a sign of just how reckless and aggressive U.S. foreign policy is likely to be in the coming years."
But remember: We don't know for certain that Tillerson has been chosen to be secretary of state, and we certainly don't know whether the Senate will confirm him.