Ohio Legislature Passes Civil Asset Forfeiture Reform
Over opposition from law enforcement, Ohio lawmakers passed a bill barring civil asset forfeiture in cases under $15,000.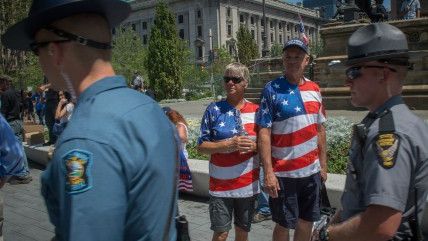 (Bryan Smith / ZUMA Press / Splash News/Newscom)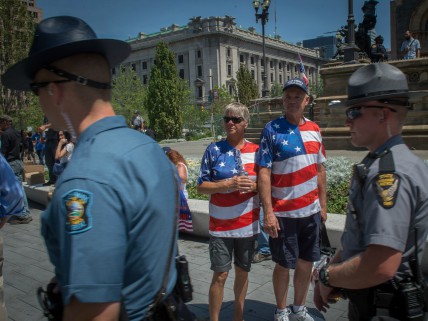 The Ohio legislature passed a bill late Thursday night tightening the state's civil asset forfeiture laws, which previously allowed state and local law enforcement to seize property without convicting or even charging someone with a crime.
The bill passed both the Ohio senate and house by wide margins, despite opposition from law enforcement groups. If it is signed by Ohio Gov. John Kasich, Ohio will join 17 other states in recent years that has overhauled their civil asset forfeiture laws in response to media investigations and reports from civil liberties groups that revealed shocking numbers of people who've had their cash, cars, and even homes seized.
While law enforcement groups argue that civil asset forfeiture is a vital tool to combat drug trafficking and organized crime, civil liberties groups argue the practice inverts the presumption of innocence, forcing property owners to go to court to prove why they should get their own property back, and creates perverse profit incentives that lead police to target everyday citizens. The U.S. Justice Action Network, a bipartisan network of criminal justice advocacy groups, was one of several national organizations that threw its weight behind the bill.
"Ensuring that the government cannot take a citizen's property without due process of law makes for smart policy and smart politics," Holly Harris, the executive director of the U.S. Justice Action Network said in a press release Thursday. "Our polling found that 81 percent of Ohioans on both sides of the aisle agree that the government should not be able to take property without due process."
The Institute for Justice, a libertarian-leaning public interest law firm that has filed lawsuits in several states challenging asset forfeiture laws, gives Ohio's asset forfeiture laws a "D-" grade for its lax due process protections, lack of reporting requirements, and the high percentage of revenue from seizures that goes back into police and prosecutor budgets.
Under the Ohio bill prosecutors will be required to charge citizens with certain crimes in order to forfeit their property, although in some instances prosecutors may still do so without filing any charges, according to the Columbus Dispatch. It also switches the burden of proof from the defendant to the government to show why property is connected to a crime and bars civil forfeiture for amounts under $15,000.
Significantly, it also bars law enforcement from using federal asset forfeiture laws for seizures under $100,000. Civil liberties groups argue that state and local law enforcement often get around stricter state laws by participating in federal drug task forces, allowing them to use federal forfeiture laws and keep up to 80 percent of the proceeds from seizures.
The previous version of the bill had a threshold of $25,000. The original bill passed by the Ohio house of representatives earlier this year would have eliminated civil asset forfeiture altogether, barring forfeiture in cases where no conviction was obtained, but it was softened in response to concerns from law enforcement.
Law enforcement organizations, such as the Ohio Prosecuting Attorneys Association, still oppose the bill, saying there are already plenty of due process protections for property owners built into the law.
However, state groups across the political spectrum, from the Ohio chapter of the ACLU to the Buckeye Institute, a conservative policy think-tank, supported the bill. National organizations like Americans for Tax Reform and FreedomWorks, a conservative advocacy group that said it drove more than 60,000 calls and messages from members to Ohio lawmakers in favor of the bill.
FreedomWorks CEO Adam Brandon said in a press release that Thursday's vote was a "a "great day for private property rights in my home state."
"Ohio will join the growing list of states that have passed civil asset forfeiture reform to protect private property from government overreach and strengthen due process protections," he said.