Trump Selects Labor Nominee, Harry Reid Says Farewell, Astronaut John Glenn Dead at 95: P.M. Links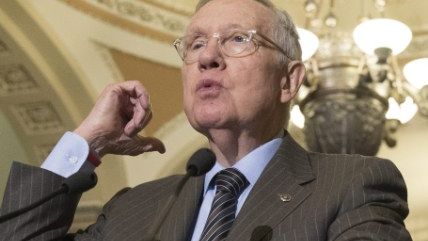 (Michael Reynolds/EPA/Newscom)
Michael Reynolds/EPA/Newscom

Donald Trump has chosen the CEO of Hardee's (or Carl Jr.'s, depending on where you are) to serve as his labor secretary. Andrew Puzder has been a critic of major increases in the minimum wage, pointing out that it makes it too expensive to employ low-skilled people in businesses with low profit margins (like fast-food franchises).

Pioneering astronaut and former senator John Glenn has died at age 95.
Wave buh-bye to one of the Democratic establishments biggest party hacks. Sen. Harry Reid (D-Nevada) gave his farewell address today as he retires from office.
A military official in the U.S. says North Korea has the capabality of launching a nuclear weapon, but it's not clear whether they have the technology to actually target a location.
Congress has gotten involved in trying to regulate those bots who immediately buy all those concert tickets online right when they're available.
A magnitude 6.5 earthquake hit off the shore of Northern California, too far from the coast to have any significant impact.
Russia and the United States have agreed to a meeting to discuss the withdrawal of Syrian rebels from Aleppo.
The latest info gleaned from documents leaked by Edward Snowden indicate that the National Security Agency (NSA) has the capability to monitor cellphone conversations of those who are in flight on commercial aircraft.
Follow us on Facebook and Twitter, and don't forget to sign up for Reason's daily updates for more content.