Trump-Schumer Bromance Is Bad News
Trump ran as a change candidate. Now he's taking personnel recommendations from Sen. Schumer, who has been serving in Congress since 1981.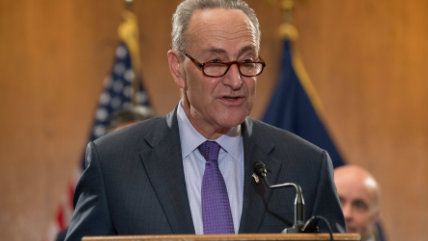 (Nicole Albee/ZUMA Press/Newscom)
The most dangerous threat to free markets and the rule of law at the moment just may be the budding bromance between President-elect Donald Trump and the incoming Democratic leader in the Senate, Charles Schumer.
Trump's decision to reappoint the U.S. attorney for the Southern District of New York, Preet Bharara, was met with horror and dismay among those who, like myself, consider Bharara's string of insider trading prosecutions, reversed by appellate courts, to be "sadistic" and "sleazy." Those aren't my words—they are descriptions that two distinguished federal appellate judges have applied to Bharara's tactics.
There's plenty of blame to go around for Bharara's reappointment, which was announced last week. The Manhattan Institute, a conservative think tank with a distinguished record that ought to have known better, published a piece under the headline "Memo to Trump: Let Preet Stay," lauding the prosecutor's efforts against political corruption. But Sen. Schumer's role was central.
The New York Times reminded its readers that before becoming U.S. attorney, Bharara was chief counsel to Sen. Schumer. "Mr. Trump also asked Mr. Schumer how best to reach Mr. Bharara, and the senator provided Mr. Trump with Mr. Bharara's direct line," the Times reported. Trump had called Schumer to ask his advice on keeping on Bharara, which Schumer recommended, the Times said.
Trump ran as a change candidate, criticizing Hillary Clinton as "secretary of the status quo." Now he's taking personnel recommendations from Sen. Schumer, who has been serving in Congress since 1981, or nearly 36 years. It is breathtaking.
Yet it's not only the Bharara re-appointment where President-elect Trump appears to be singing from Schumer's songbook.
Consider Trump's high-profile personal intervention to prevent Carrier, a division of United Technologies Corp., from moving manufacturing jobs to Mexico. It's a repeat of Schumer's treatment of New York-based manufacturing jobs, as when he called a bank CEO to try to save 600 jobs at a Rochester clothing manufacturer, Hickey Freeman, or wrote to another CEO to try to save 1,300 jobs at an engine control system factory near Binghamton, N.Y.
If there's a silver lining to the Trump administration, it's that all of a sudden the mainstream media, including NPR and The New York Times, are giving prominent attention to libertarian economists like George Mason University's Tyler Cowen, who argue that politicians are being foolish when they take the Schumer-Trump approach of trying to preserve jobs on a case-by-case basis, rather than improving incentives for everyone.
Trump is even getting his trade policy from Schumer. Consider Trump's tweet this week: "Did China ask us if it was OK to devalue their currency (making it hard for our companies to compete)."
The China currency manipulation complaint has been a Schumer hobbyhorse for more than a decade; back in 2005, Lawrence Kudlow was writing in the New York Sun about how "Smoot Schumer" was "using the issue of floating currencies as a smokescreen for his protectionist package against China."
Schumer is also already salivating about Trump's plans for $1 trillion in federally backed "infrastructure spending."
"Schumer said he stands ready to work with the incoming administration to pass a major infrastructure bill with a trillion dollars in real federal funding, and believes it is possible in the first 100 days of the new Administration," the senator said in a press release. If you thought the Obama "stimulus" was a taxpayer-funded bridge to nowhere, wait until you see the Trump-Schumer spending binge.
Prescient observers saw this coming. A New York Sun editorial back in March suggested that Trump choose Schumer as his running mate, observing, accurately, "The Donald and Mr. Schumer are two peas in a pod."
Trump himself has gushed about the senior senator from New York, tweeting, "I have always had a good relationship with Chuck Schumer." Trump called Mr. Schumer "far smarter" than Harry Reid, Schumer's predecessor as the Senate Democratic leader, and called Schumer's accession "good news."
Well, it may be good news for Trump. Whether it is good news for the country is another question. Remember, "bipartisanship" in Washington is when Republicans like Trump do what Democrats like Schumer want.