N.C. Governor Concedes Election, Gore Meets with Trump, Mistrial Declared in Walter Scott Case: P.M. Links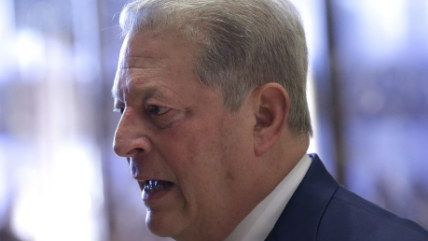 (John Angelillo/POOL/EPA/Newscom)
John Angelillo/ POOL/EPA/Newscom

Republican North Carolina Gov. Pat McCrory has finally conceded today to challenger Roy Cooper, the state's attorney general. The votes had been very close, but as they were tallied, it was increasingly clear that Cooper had maintained a tight lead.

Former Vice President Al Gore met with President-elect Donald Trump and his daughter, Ivanka, to discuss climate change issues. Gore described the meeting as "productive."
A judge has disclared a mistrial because the jury couldn't reach a unanimous verdict in the police shooting of Walter Scott in South Carolina.
The owner of Pulse, the Orlando gay nightclub that was the scene of the mass killing in June, has decided not to sell the property to the city to turn it into a memorial and will keep it to turn into a "sanctuary of hope."
Food truck owners in Chicago have lost a lawsuit against the burdensome regulations designed to protect traditional restaurants at their expense.
Japan's prime minister is planning a visit to Pearl Harbor with President Barack Obama, the first Japanese leader to do so.
Amazon is testing a shopping method that not only lacks cashiers but doesn't even have registers, prompting a lot of discussion about the future of retail shopping (and employment). For a different perspective, note that some grocery stores are actually starting to scale back on use of self-checkouts.
Carrier insists that its decisions to raise prices for its products has absolutely nothing to do with President-elect Donald Trump and the deal to keep from shipping some jobs to Mexico.
Follow us on Facebook and Twitter, and don't forget to sign up for Reason's daily updates for more content.