On the Lord's Day, Watch Matt Welch and Katherine Mangu-Ward on MSNBC, Then Donate to Reason!
From Al Sharpton to Bill Maher, Michael Smerconish to our good friend Kennedy, Reason staffers are your voice in the broadcast media.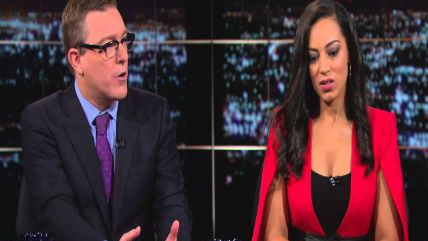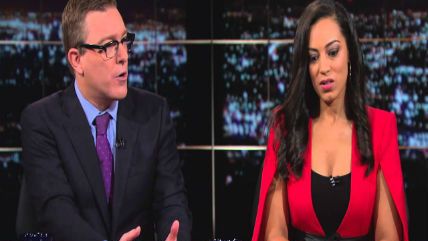 From November 29 to December 6, we are asking Reason readers to give tax-deductible support for our annual Webathon, with the audacious goal of raising $250,000, or around $4,000 more than we did in 2015. We do this not just out of greed (though greed is good, obvs.), but because the very best and most stable model for producing opinion journalism is creating a nonprofit foundation with the maximum number of donors. That way the fortunes of the editorial entity (and surrounding community) you value will not be subject to the transitory whims of individual rich weirdos. Please help us make Reason safe for your grandchildren.
In roughly 30 minutes, beginning sometime after 8 a.m. ET, I will be doing what Reason staffers also do in return for your generous donations: Represent you the best I can in a non-libertarian broadcast venue consumed by tens or hundreds of thousands of people. In this case it will be on MSNBC's PoliticsNation with Al Sharpton, a program I have been going on about once a month for the past year or so, and where today I'll be talking with fellow panelists Joan Walsh and Yamiche Alcindor about President-elect Donald Trump's Cabinet appointments. Why subject myself to such punishment? Because it ain't punishment, silly, it's a privilege! Where large conversations about politics and policy are taking place, Reason intends to be there, speaking candidly for the truth as we see it, while advocating for Free Minds and Free Markets. I'll also being going on MSNBC in the noontime (ET) hour to provide political analysis, and Katherine Mangu-Ward is also scheduled for the 4 o'clock hour, to deliver more of the same. We mangle our weeknights and Sundays so you don't have to!
In the past week, for example, Anthony Fisher appeared on Fox Business Network's Kennedy (a show we played at least a small role in incubating) to talk about good and bad reactions to Fidel Castro's death, I went on FBN's Intelligence Report With Trish Regan and The Blaze's The Dana Loesch Show and Buck Sexton Show to do the same, Peter Suderman went on Kennedy to talk about the Obamacare ramifications of nominating Tom Price to secretary of Health and Human Services, I did a half-hour on flag-burning politics for SiriusXM Insight's Stand Up! With Pete Dominick, and hey look, if it isn't our old friend Kennedy hosting me and other Party Panelists on Carrier, Goldman Sachs, and weed:
But for some reason you people enjoy us in more hostile environments. Such as minutes 7-11 or so of this appearance on Red Eye w/ Tom Shillue, in which Lou Dobbs starts barking at me over space policy (!), saying "This is the great thing about libertarians—they don't know half the time what they're talking about!"
Nick Gillespie over the years has had some memorable scraps on HBO's Real Time with Bill Maher, including with Rachel Maddow, Donna Brazile, and Braddock, Pennsylvania, Mayor John Fetterman:
And no trip down Reason staffer media-appearance memory lane is complete without Bill O'Reilly trying desperately to defend his own children from the scourge of Jacob Sullum:
Is there a new PBS show trying to channel the spirit of Bill Maher and Intelligence Squared? We're on the pilot (and subsequent episodes). Some independent and libertarian-friendly content burning up the ratings on CNN? We're all over it. That rare newish medium that Reason hasn't totally leaped into? We'll totally leap into it. Our job is to insert ourselves into conversations that are already happening, wherever they're happening, in addition to bringing as many of the happenings as possible right here to reason.com.
Do you derive value, satisfaction, or at least some enjoyable schadenfreude in watching our familiar faces and listening to our strange speech patterns in far-flung broadcast venues? Then please consider a tax-deductible donation, to make it easier on us.