France President Francois Hollande Not Running for Re-Election, No Surprise
With dismal approval ratings, it was highly unlikely Hollande would've gotten anywhere if he had decided to run.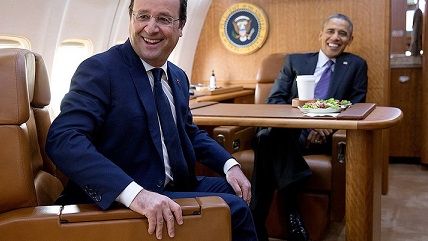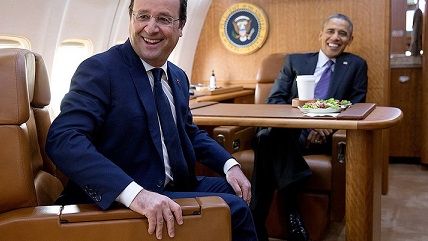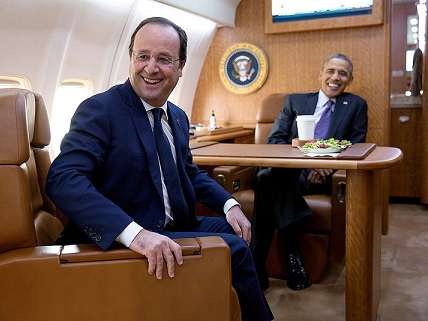 The Socialist French president, Francois Hollande, announced today he would not be seeking a second term, saying he was aware of the "risk that going down a route that would not gather sufficient support would entail."
Hollande's decision doesn't come as much of a surprise, his approval ratings had been dismal, hitting 12 percent in a poll this summer. And that was a longtime coming—back in 2014, just 3 percent wanted Hollande to be the Socialist nominee for president again in 2017. 85 percent wanted a Socialist primary, and just 15 percent would vote for him in that case. Last week, Hollande had just a 1 percent chance of being the next president of France on ElectionBettingOdds.com.
That betting aggregator, and polls, suggest the first round of the election, scheduled for April 23, 2017, could lead to a win by Francois Fillon of the Republican Party (the former UMP, whose last president, Nicolas Sarkozy, lost this year's nationwide primary) over the National Front's Marine Le Pen without the need for a run-off. The Socialists, so far, are a non-factor—they have a primary scheduled for January.
Hollande promised in his election bid in 2012 that he would resign if he couldn't turn the economy around—surprisingly the socialist prescription of government jobs programs failed to do that. Unsurprisingly, Hollande never resigned. He did face a revolt in his own Socialist Party when trying to push through labor reforms meant to make it easier for employers to hire employees.
Fillon, the center-right frontrunner of the 2017 election, was described in Bloomberg Businessweek as "a neo-Thatcherite who wants to downsize government, slash taxes on corporations and the rich, and scale back labor protections." His main opponent, Le Pen, meanwhile, who is often described as "far right", has an economic plan, according to Bloomberg Businessweek, "that could be mistaken for a Marxist tract, with calls to strengthen the social safety net, raise trade barriers, and nationalize the banks." The National Front is also an anti-immigrant, nationalist party.
Hollande's popularity problem started before a series of terrorist attacks kicked off by Al-Qaeda-linked gunman massacring the offices of the satirical magazine Charlie Hebdo in January 2015. There were a series of attacks in Paris in November in which 130 people were killed, and a truck attack in Nice earlier this year that killed 86. There have also been a number of smaller incidents like stabbings, a beheading, and vehicle rammings. France has been in a state of emergency since the November Paris attacks.
Although Reuters reports it's the "first time in decades that an incumbent French president has not sought re-election," Jacque Chirac was a two-term incumbent when he chose not to seek re-election in 2007. However, in the history of the Fifth Republic, established in 1958, no other incumbent non-interim president had chosen not to run for re-election. Vincent Auriol chose not to run for re-election in 1953 during the brief Fourth Republic. "The work was killing me," Auriol said at the time, "they called me out of bed at all hours of the night to receive resignations of prime ministers."