Trump's Formula for Success Is Typical Cronyism, Hollande Won't Seek Re-Election, Baltimore Releases Body Camera Footage of Police Shooting: P.M. Links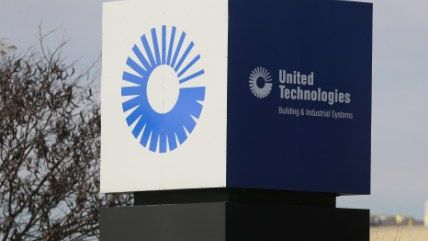 (Jeremy Hogan/Polaris/Newscom)
Jeremy Hogan/Polaris/Newscom

How did President-Elect Donald Trump (and Vice President-Elect Mike Pence) get Carrier and United Technologies to keep jobs in the United States instead of shipping them out of the country? Typical cronyist government tax breaks and federal contracts.

Sources tell the Washington Post Trump has selected retired Gen. James N. Mattis as secretary of defense.
Neighbors where Pence is temporarily staying pre-transition in Washington, D.C., are showing their support for gay issues (and presumably disagreement with Pence) by putting up rainbow flags.
France's President Francois Hollande, a Socialist, announced today that he would not be running for re-election. He was deeply unpopular and had little chance of winning anyway.
A police officer in Tacoma, Washington, was shot and killed while responding to a domestic violence call. The suspect inside the home of the call was also killed.
Police in Baltimore are releasing—for the first time—body camera footage of police shooting a suspect, in this case of a man shot after refusing to drop knives. The man survived the shooting and is being treated at a hospital.
Krispy Kreme is facing a lawsuit because its raspberry-filled donuts don't actually have raspberry in them and the blueberry donuts don't actually have blueberries in them, at least according to the list of ingredients.
Follow us on Facebook and Twitter, and don't forget to sign up for Reason's daily updates for more content.