A.M. Links: Trump Heads to Indiana, Putin Addresses Russia, Tennessee Wildfires 'Likely to Be Human-Caused'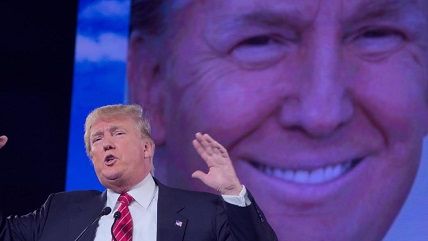 Todd Kranin

President-elect Donald Trump is headed to Indiana today, where he will visit the Carrier plant in Indianapolis.

Sarah Palin is reportedly under consideration to serve as the secretary of veteran affairs in the Trump administration.
Senate Democrats are planning to make the confirmation of Trump nominees "as painful as possible for the new president."
In his annual state-of-the nation speech, Russian President Vladimir Putin said Russia is "not seeking conflict with anyone." But "we will not permit harm to our interests."
The Tennessee wildfires that killed at least seven are "likely to be human-caused."
"Oil swept to a six-week high on Thursday after OPEC agreed to cut crude output to help clear a glut, while sterling hit a three-month peak after traders interpreted comments from a senior UK official as a crack in the government's 'hard Brexit' line."
Follow us on Facebook and Twitter, and don't forget to sign up for Reason's daily updates for more content.