RIP India's Economic Liberalization
PM Modi's demonetization is a scheme to rob private enterprise, just like his socialist predecessors did.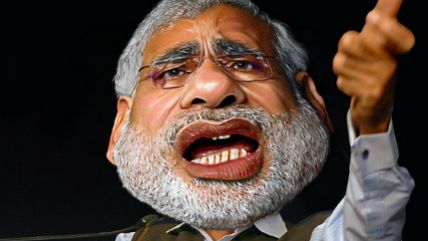 Two weeks ago, India's Prime Minister Narendra Modi effectively suspended his country's three-decade-long flirtation with economic liberalization and appointed himself economic czar.
Out of the blue without consultation with the Parliament, his party, or his economic advisors, he launched a scheme called demonetization that declared 85 percent of India's currency null and void, I explain in my column at The Week. Within hours of his announcement, India's highest currency bills Rs. 500 ($7.50) and Rs. 1,000 ($15) ceased to be legal tender. He announced that they would be replaced by new Rs. 500 and Rs. 2,000 bills that people could swap at designated banks with proof of ID.
The ostensible purpose of the move is to flush out untaxed "black money" and modernize India's cash economy into an electronic one. The real purpose, as GMU's Larry White and SUNY's Shruti Rajagopalan explain, is to confiscate private wealth.
Everyone is getting a basic allowance to swap the old currency with new money at designated banks with proof of ID (which itself is an insane demand in a country where 600 million poor people don't have bank accounts and 300 million don't have IDs). Anyone exchanging beyond that allowance would have to explain how they acquired the money. Those swapping hordes of unaccounted for cash would be subject to penalties and jail. The unreturned money will default to the government.
Given that 90 percent of economic transactions are in cash and off the grid, this could work out to a pretty tidy windfall for the government. Estimate White and Rajagopalan:
"[I] f 20% of the old notes are never turned in, the government's revenue windfall is up to Rs. 2.9 trillion ($42.5 billion)… The destruction of the private wealth of non-redeeming old-note holders, combined with the revenue windfall to the government, makes the currency policy effectively a large capital levy, a massive one-shot transfer of wealth from the private to the public sector."
But it's not just the rich who'll get poorer under this heist, the poor will get even poorer because, note White and Rajagopalan, the reinjection of the new currency into the economy will lead to all kinds of regressive effects:
New currency notes are presently entering the economy through the formal banking system under Reserve Bank of India regulation. The notes injected this way are taking time to reach the 600 million Indians who do not have bank accounts. In the meantime, with currency-dependent sellers of goods and services having lost their unbanked customers, those who receive the new currency notes first can buy goods and resources at depressed prices. The terms of trade turn against the unbanked sector, and the relatively wealthy banked population receives a transfer from the relatively poor unbanked population. The skewing of relative prices and incomes will persist until the access to new currency notes flows throughout the economy.

There is also a geographic skewness. Tea vendors in the city of Mumbai, for example, where new currency is appearing relatively promptly, are less hard-hit than tea vendors in the rural villages of Maharashtra.

The currency shortage may also cause structural imbalances in the economy for longer production processes. For instance, mid-November is the sowing season for the Rabi (winter) crop in India, which is harvested in spring. Farmers lacking access to valid new currency notes have been struggling to pay for seeds to sow during this crucial time. Farmers who thereby miss the sowing season will lose their entire year's earnings, even though the shortage of notes is temporary. Industries supported by farmers (fertilizers, machinery, etc.) will also see a fall in demand, and earnings. The relative price changes may persist until spring, at the time of harvest, even if the shortage of currency is resolved sooner. Close to half of Indian families are engaged in agriculture, and it accounts for 16% of the GDP. The government yielded to obvious necessity last week and announced that it would grant farmers a special dispensation allowing them to use old 500 rupee currency notes through the sowing season. But similar problems arise in other lines of business, which the government cannot anticipate and make timely exceptions for. Another example is construction, an almost entirely a cash-based industry, where current projects are being postponed until new currency notes become sufficiently available. This postponement will have effects on housing supply and prices for several years ahead.
But the biggest tragedy of Modi's demonetization scheme, I note in my column, is that because it does nothing to eliminate the underlying causes of tax scofflaw behavior — India's tax burden that includes hidden levies such as bribes to bureaucrats — black money won't actually disappear. People will simply park less of it in cash and more in harder-to-trace, non-cash assets such as gold and real estate, which already account for almost 60 percent of household savings. (Poor households have taken to buying jars of Tide to barter for goods and services, giving new meaning to the term money laundering.)
This means that this crackdown will set the stage for future crackdowns. Indeed, Modi, who himself will always be able to indulge his taste for $16,000 suits, has already indicated that he's on the job.
RIP India's liberalization.
Go here to read the whole piece.