Homeless Man's 'Paradise Lane' Encampment Attracts Ire of L.A. Officials
Ceola Waddell Jr.'s "landmark" has been carted away by the city's Department of Sanitation.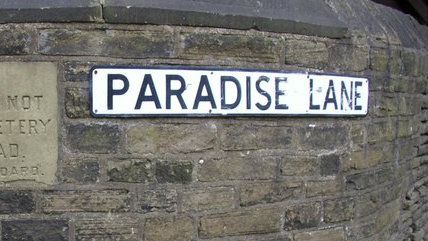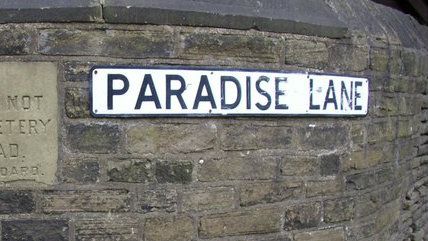 (Sign at the end of Paradise Lane / Wikimedia Commons)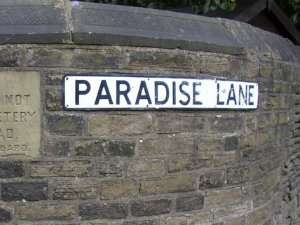 Ceola Waddell Jr.—a Los Angeles–area homeless man—obtained unlikely social media fame when a 2014 video tour of his overpass campsite went viral. In the video, Waddell is found proudly displaying the various amenities at his "Paradise Lane" crib, including a 10-gallon fridge jacuzzi, an extensive shoe collection ("for the ladies"), a smoking lounge, and even a guest tent available for rent.
Since going viral, Waddell—who goes by Mr. Dice—has become something of a presence in his neighborhood. Nearby residents frequent his roadside hotdog stand, where he sells "Dice Dogs" for the bargain price of $2.50, and he's even attracted a tenant for his guest room.
Waddell is reportedly bemused by all the attention, telling the Los Angeles Times , "I still don't get it, what's so fascinating about this place. I decided I wanted to live like everybody else, make me something nice that I wanted to come home to."
Unfortunately for Waddell, his Paradise Lane home has also attracted the somewhat less bemusing attention of Los Angeles city officials. Workers from the Department of Sanitation have twice carted away much of his setup, including a raid last week that saw Waddell lose his fridge, unspecified "explosive materials" (possibly the propane he uses to cook his hot dogs), and "other unhealthful things."
Angelina D. Valencia, a spokesman for City Councilman Curren D. Price Jr., told the Times that these actions were in response to complaints that the homeless presence in the area has generated. "There's been a great deal of public safety and public health concern from neighbors in the area, as well as [the Los Angeles Police Department] and the Sanitation Department," she said.
Whatever complaints the city has received about Waddell specifically, many of his neighbors seem fine with his presence. Some of them reportedly like to stop by Paradise Lane to share a cigarette. They even organized a neighborhood barbecue.
It would also not be out of character for the Los Angeles government to engage in petty harassment of its homeless population. In the past, the city has arrested people for sleeping in their cars, used jaywalking tickets to push them out of downtown, and even suggested a ban on feeding them.
Waddell, for his part, is not letting the city's seizure of his belongings put an end to Paradise Lane. "I refuse to let the city beat me down to what they think a homeless person's profile is, living on cardboard," he said.