Ohio State Attack: ISIS Calls Student Perpetrator a 'Soldier of the Islamic State'
Ohio State student and Somali immigrant Abdul Razak Ali Artan, 18, was named as the now-deceased perpetrator of Monday's attack.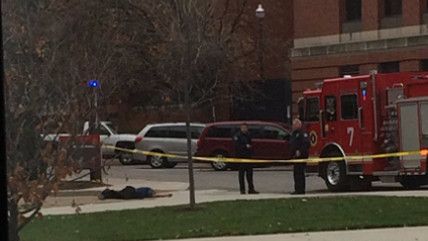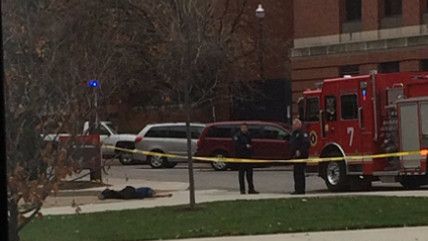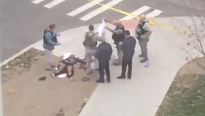 Update, November 30: On Tuesday, ISIS claimed responsibility for the attack carried out by Ohio State University student Abdul Razak Ali Artan. The ISIS news arm called Artan, 18, a "soldier of the Islamic State" who "carried out the operation in response to calls to target citizens of international coalition countries."
In a Facebook update Artan posted before the attack, the young man—who became a legal permanent resident of the U.S. in 2014 after living in Pakistan for the previous seven years—criticized U.S. intervention in the Middle East, adding: "If you want Muslims to stop carrying out lone wolf attacks, then make peace."
As of Tuesday afternoon, the 11 victims of the attack remained hospitalized but were expected to make full recoveries.
Update, 5:40 p.m.: Officials have identified Abdul Razak Ali Artan, an 18-year-old Somali-born immigrant, as the now-deceased perpetrator in today's attack at Ohio State University (OSU), according to the Associated Press. "Those injured in the attack included an Ohio State faculty member, four graduate students and three undergrads."
U.S. Rep. Adam Schiff (California), the top Democrat on the House Intelligence Committee, said the attack "bears all of the hallmarks of a terror attack carried out by someone who may have been self-radicalized." However, no official motivation has been identified yet for the attack.
Update, 2 p.m. – Police have confirmed that the attack at the Ohio State University this morning did not involve an "active shooter" situation as OSU initially reported but a vehicular attack followed by a knife attack. A male suspect drove a vehicle into a group of people gathered outside a campus building and then "exited the vehicle and used a butcher knife to start cutting pedestrians," according to Ohio State Police Chief Craig Stone. "Our officer was on scene in less than a minute and ended the situation in less than a minute." The officers shot and fatally wounded the attacker, whose identity is still unknown. Unconfirmed reports from local news say the vehicle was registered to a 20-year-old Somali-American student named Ali Muhammad.
12:05 p.m.: Multiple people were injured in an attack on the Ohio State University campus Monday morning, although early reports about victims with gunshot wounds turned out to be unfounded. OSU police said victim injuries include stab wounds and wounds from being struck by a vehicle. As of Monday afternoon, officials were reporting that nine victims had been taken to the hospital with injuries, including one in critical condition. In addition, the driver of the vehicle was fatally shot by police outside of OSU's Watts Hall, where he had crashed his car into a group of pedestrians before attacking them with a butcher knife.
OSU student Ben Slaton, who took the following video, reported that he heard a gunshot and looked out his classroom window to see police standing over the suspect's body.
— Ben Slaton (@_bennybeatz) November 28, 2016
Soon after the suspect was killed, two more people were cornered in a parking garage near campus and led out by police in handcuffs; it's unclear if both are suspects.
According to CBS News, the incident began Monday morning when firefighters received reports of a chlorine leak at the OSU chemical engineering building. When they arrived around 9:30 a.m., they found a vehicle had crashed into the building and people were reporting a knife attack of some sort. One witness told NBC News that the car had deliberately plowed into "a whole group of people," including a cop, who were standing outside the building after it was evacuated due to a fire alarm. (There have been no subsequent reports about a cop getting injured.)
At 9:56 a.m., OSU Emergency Management sent out an alert advising of an "Active Shooter on campus" and telling students to "Run Hide Fight."
Buckeye Alert: Active Shooter on campus. Run Hide Fight. Watts Hall. 19th and College.

— OSU Emergency Mngmnt (@OSU_EMFP) November 28, 2016
Around 11:30 a.m., OSU Emergency Management reported that the campus was now secure.
Firefighters originally reported that 10 people had been hospitalized with injuries, but police later corrected the number to nine. According to Andrew Thomas, chief medical officer of the campus hospital, four of the people hospitalized were being treated for cuts or stab wounds and four for injuries from being by the car. The nature of the ninth victim's injuries were still unclear.
This post is being updated as more information becomes available.