Officials Behind $500 Million Vikings' Stadium Subsidy Get Free Luxury Box Tickets for Family and Friends
Stadium deals are always bad for taxpayers, and this is one of many reasons why.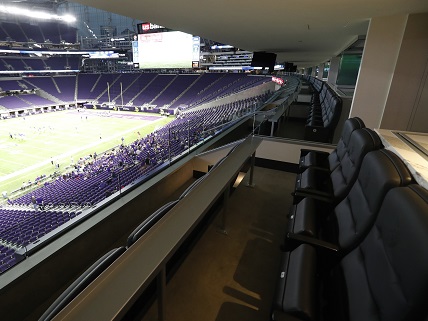 Six government appointees, including the son of a vice president, who negotiated how much public money would be spent building the Minnesota Vikings' new football stadium get free access to luxury boxes for all events in the stadium.
Which, you know, might call into question how hard they really negotiated for the taxpayers on that one.
The Minneapolis Star-Tribune reports that the six members of the Minnesota Sports Facilities Authority (MSFA), the quasi-government agency created in 2012 to oversee the public subsidies for the building of U.S. Bank Stadium, get free tickets to two lower-level luxury suites for all events held there. Even though taxpayers covered more than half of the cost of the $1.1 billion stadium, which opened earlier this year, the public is being kept in the dark about who occupies those 36 seats and the adjoining luxury suites during Vikings home games and other events.
The team claims that the suites are used for "marketing purposes," but the Star-Tribune's investigation found that family and friends of the board members are usually in attendance too.
Maybe the best part of the story is the moment when two members of the MSFA board (chairwoman Michele Kelm-Helgen and executive director Ted Mondale) try to justify their sweet, free, and secret perk by arguing that they "work long hours on game days and spent long nights negotiating on behalf of taxpayers during construction of the building, so having friends and family there is reasonable."
Mondale, by the way, is the son of former U.S. vice president Walter Mondale and he has lived the life of a vice president's son. After a brief stint in elected office during the 1990s, he's settled into a rotating set of political appointments. He was appointed to the Twin Cities' Metropolitan Council by Gov. Jesse Ventura in 1999, and he used that post to push for the approval of a pair of ridiculously expensive light rail lines. With that public boondoggle in his resume, he was probably a natural fit on the MSFA board, to which he was named CEO by Gov. Mark Dayton in 2012, just as the new stadium deal was in the works.
(UPDATE: A reader emails to remind me that Kelm-Helgen is the daughter of Tom Kelm, who was chief of staff for former Minnesota Gov. Wendell Anderson. The elder Kelm has also been a power broker of sorts in Minnesota politics for years. The point is that neither Mondale nor Kelm-Helgen is any sort of an expert on stadium financing or sports or construction. As is often the case, they are simply well-connected individuals who got appointed to a commission gig with sweet perks.)
Taxpayers in Minnesota might not have the same high opinion of the hard work done by Kelm-Hagen and Mondale. The public spent more than $500 million on the new stadium—enough to cover the entire playing field with $100 bills 10 layers thick, according to one local news station's analysis—making it one of the largest public subsidies ever given to a sports facility.
The Star-Tribune says they were given the names of 12 current and former public officials who attended and paid for suite tickets to NFL games. After the initial request for information was made, several other officials—including the mayor of Minneapolis and her husband, several state commissioners, Minneapolis' city attorney, and city council members—also wrote checks reimbursing the board for the tickets they had apparently used.
For anyone who isn't part of this special cadre of insiders getting special access to the suites for free would hav to shell out more than $20,000 for season tickets in similar suites at the stadium. Since the six members of the MSFA board also have access to the suites for all other events at the stadium, the actual value of their seats is in excess of that figure.
The whole thing raises ethical questions since public officials in Minnesota are not allowed to receive gifts, including special privileges or access not otherwise available to the general public. That gift ban has a loophole allowing public officials to accept such special freebies if it's part of their official duties.
It's hard to understand how attending a football game is part of a city or state officials "duties" but that seems to be the defense being offered by the MSFA board members responsible for handing out access to the luxury suite—that's why they're talking about those "long hours" that they work on game days.
David Schultz, a Hamline University political science, law and ethics professor, tells the Star-Tribune that claim is "dubious at best" and adds that "beyond state law, it just looks bad."
Schultz is right, but it doesn't just look bad. It is bad. Aside from the ethical issues at play, the story should make clear one of the major problems with government subsidies for sports stadiums and other big development projects like this.
Political appointees who are supposed to be negotiating on behalf of the public in a stadium financing deal—or any similar process where the government is handing out millions of dollars for development that could be done privately—have little incentive to look out for what's actually in the public's best interest and plenty of incentives to make sure the deal gets done. They can easily be captured by the special interests—in this case, the Minnesota Vikings and their owners—that stand to benefit from the subsidies with promises of perks like these.
The only way to prevent those ethical and political maneuvers from taking place is to not hand out the money in the first place. In Minneapolis, that (Viking) ship has sailed.
(Second Update: This story has been corrected to reflect that U.S. Bank Stadium is owned by the MSFA and is not privately owned.)