Ex-Security Chief's Lawsuit over Alabama Governor's Alleged Affair Exposes Corruption of Government
Government corrupts.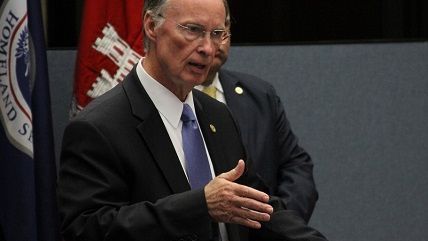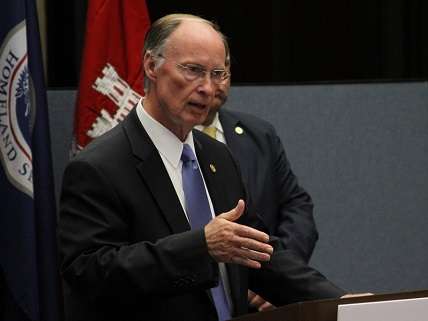 The former chief of Alabama Gov. Robert Bentley's security detail, Wendell Ray Lewis, filed a lawsuit on Friday alleging that Bentley had admitted an extramarital affair to him, and accusing the governor and his alleged mistress, staffer Rebekah Mason, of invading his privacy by "putting him in a false light and position in the eyes of the public by stating that Lewis worked overtime which was not approved by the State of Alabama."
The suit also accused the Republican Bentley, Mason, and other defendants of defamation, interfering with his post-retirement business relations, "constructive discharge," and misconduct. A 2014 al.com story by John Archibald, cited in the lawsuit, estimated that Lewis made about $203,000 a year because of overtime he earned "following the governor across the globe." At the time, Bentley said neither he nor anyone on his staff was involved in approving overtime, but defended Bentley's promotion, which had also been questioned by Archibald.
Bentley's attorney called the lawsuit baseless, pointing out that much of it included allegations (which he says the governor denies) which "have nothing to do with the actual legal claims asserted" by Lewis.
"Public records show that when Lewis worked for the state government, he made more than $661,615 over five years, based on the overtime he was paid," Bentley's attorney said in a statement. "But he chose to quit. That was his choice—no one else's," the attorney's statement read, noting Lewis was now receiving more than $87,000 a year in retirement income from the state. "But now he is trying to force the State to give him more money," the statement continued, "and to go so far as to extract money from the pocket of a governor who has never even taken a salary since he took office."
In his lawsuit, Lewis alleged that by the fall of 2014 he was seeing subordinates he had supervised taking over his tasks, was frozen out of meetings, and stripped of various responsibilities, arguing that "over time the criticism, exclusion, and opprobrium became insufferable," resulting in his "early retirement" in 2015.
Lewis alleges in the lawsuit that he had confronted the governor multiple times about the affair. "You know that you are getting into a touchy situation because we use state vehicles, we use state planes, to move about," Lewis said he told the governor. "You're requesting to put her in there, that's a problem. This is bigger than you and Rebekah. This is about the State of Alabama." Lewis alleges in the lawsuit that the governor asked him to break up with Mason for him. In March, the state auditor filed a complaint that Bentley and Mason may have misused state property.
The affair was found out because the governor did not know his iPhone was synced to an iPad he gave his wife, according to the lawsuit, resulting in an incriminating recording eventually made public. Bentley apologized for making "inappropriate" comments to Mason but denied a physical relationship. He and his wife divorced last year.
Lewis says the governor told him Lewis had done nothing wrong after the overtime scandal broke (the governor pointed out in a different recording made public that Lewis was paid a similar amount of overtime to previous security detail chiefs), but that after the governor hugged him, he knew he was in trouble.
"When their conversation was over, Bentley hugged Lewis. Lewis knew that was it, the beginning of the end," the lawsuit reads. "He thought to himself, 'I don't know how Jesus felt when Judas betrayed him, but I felt I was being betrayed.' The only difference: Judas never hugged Jesus."
Lewis also alleged that Spencer Collier, the now former secretary of the state law enforcement agency, told him that the governor had ordered him to use $430,000 in federal funds from the Department of Homeland Security to cover the salaries of the assistant to the chief of staff, the assistant in a Medicaid program, and the governor's legal advisor to "look fiscally responsible." This had left "some local police departments concerned that they were not getting federal funds," according to the lawsuit.
The governor, the state chief justice, Roy Moore, and the House speaker, Michael Hubbard, were all embroiled in scandal this year. Hubbard was convicted on 12 felony ethics counts in June and sentenced to four years in prison.
Last week, Bentley used Survey Monkey to ask 400+ members of the GOP executive committee who they think should replace Sen. Jeff Sessions, who President-Elect Donald Trump said he would nominate for attorney general.