Putin's Biggest Fan
The GOP nominee can't stop praising the Russian leader's authoritarianism.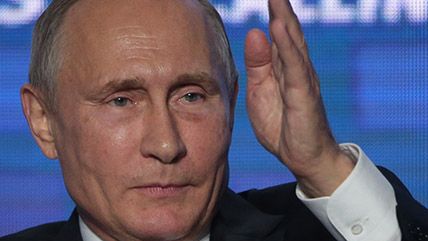 (Metzel Mikhail/ZUMA Press/Newscom)
Hillary Clinton and her running mate, Tim Kaine, used the same word to describe Donald Trump's praise of Russian President Vladimir Putin: "unpatriotic." Satisfying as it may be for Democrats to deploy that adjective against the nominee of a party known for its flag-waving jingoism, it is neither accurate nor adequate in describing what's truly alarming about Trump's admiration of the Russian strongman.
"He is really very much of a leader," Trump told NBC's Matt Lauer in September. "The man has very strong control over a country."
Trump, who also cited Putin's "82 percent approval rating," allowed that Russia has "a very different system" of government, and "I don't happen to like the system." Nevertheless, he said, "in that system, he's been a leader, far more than our president has been a leader."
Clinton slammed the GOP nominee for "taking the astonishing step of suggesting that he preferred the Russian president to our American president," which she called "unpatriotic and insulting." Kaine said the "irrational hostility toward President Obama, which started the very first day of his term from some of these people, is unpatriotic, and we've got to call it out."
Note how Clinton and Kaine equated Trump's insult to Obama with an insult to the nation. If you hate Obama, they suggested, you hate America.
Teddy Roosevelt, no stranger to jingoism, thought conflating love of country with love of the president is the opposite of patriotism. "To announce that there must be no criticism of the President, or that we are to stand by the President, right or wrong," he wrote in 1918, "is not only unpatriotic and servile, but is morally treasonable to the American public."
Patriotism is in any case a dubious virtue at best. An emotional attachment to the land in which you happened to be born is natural, but when elevated to a moral principle it can easily morph into state worship and warmongering.
The problem with Trump's comments was not that they showed a lack of patriotism. The problem was that they reflected authoritarian instincts no president of a liberal democracy should have.
Trump cannot credibly claim to dislike Russia's system of government while admiring Putin's strong leadership, because that system is what makes his strong leadership possible. In Russia's "highly centralized, authoritarian political system," the State Department notes, the executive branch dominates the legislature, pressures the judiciary, and routinely flouts notional guarantees of civil liberties.
According to the department's 2015 report on human rights in Russia, during the previous year "the government increasingly instituted a range of measures to suppress dissent," including politically motivated arrests and prosecutions; discriminated against sexual, religious, and ethnic minorities; and "failed to take adequate steps to prosecute or punish most officials who committed abuses, resulting in a climate of impunity." The report also says torture by police was common, there were "numerous extrajudicial killings," and "corruption was widespread" in the executive, legislative, and judicial branches.
Freedom House, which classifies Russia as "not free," reports that Putin's regime last year "intensified its tight grip on the media, saturating the information landscape with nationalist propaganda while suppressing the most popular alternative voices." The report also notes that "the judiciary lacks independence from the executive branch," "there is little transparency and accountability in the day-to-day workings of the government," and "vague laws on extremism grant the authorities great discretion to crack down on any speech, organization, or activity that lacks official support."
Trump's Putin partiality is of a piece with his praise for the strength shown by autocrats in Iraq, China, and North Korea. It does not bode well for his performance as president.
This article originally appeared in print under the headline "Putin's Biggest Fan".