Eminent Domain Critic, Ayn Rand Superfan, Former Cato CEO John Allison Could Run Trump's Treasury
Allison wants to repeal all Dodd-Frank regulations, which didn't fix the problem of banks being "too big to fail."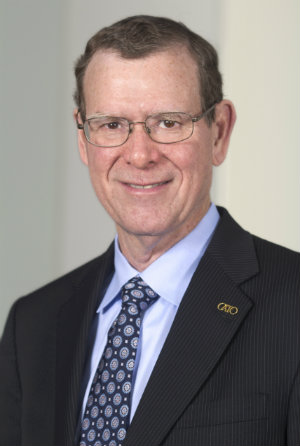 The Trump administration is slowly coming together and a libertarian is reportedly among those being considered to run the Treasury Department.
Bloomberg reports that John Allison, a former president and CEO of the Cato Institute, is on Trump's short-list for Treasury Secretary. Allison ran the Washington, D.C., based libertarian think tank from October 2012 until April 2015 and continues to sit on the organization's board today. He is also the former CEO of BB&T, a North Carolina-based investment bank, which he ran from 1989 until 2008.
Currently, Allison is director at Moelis & Co., an investment bank, and is an executive in residence at Wake Forest University's business school. He is 68 years old.
"John Allison has both the experience and the economic knowledge to be an excellent Treasury Secretary," Peter Goettler, president and CEO of the Cato Institute, told Reason via email. "Through his work with small businesses at BB&T, he has seen up close the negative effect of regulatory overreach on growth and innovation."
Bloomberg says Steven Mnuchin, an ex-Goldman Sachs Group partner, remains a leading candidate for the job of Treasury Secretary. David McCormick from Bridgewater Associates and U.S. Rep. Jeb Hensarling (R-Texas) are other candidates.
If Trump is hoping to signal that he will take the government in a new direction, Allison would be the best choice of the bunch. Not only is Allison an outsider to government, but he's a critic of the outsized—and often bullying—role that the government plays in regulating the finanical affairs of ordinary Americans.
In 2006, following the U.S. Supreme Court's controversial ruling (in Kelo V. New London) allowing the use of eminent domain for private development projects, Allison somewhat-famously announced that his bank would not invest in any such developments.
"The idea that a citizen's property can be taken by the government solely for private use is extremely misguided, in fact it's just plain wrong," Allison said at the time. "One of the most basic rights of every citizen is to keep what they own. As an institution dedicated to helping our clients achieve economic success and financial security, we won't help any entity or company that would undermine that mission and threaten the hard-earned American dream of property ownership."
Aside from that, Allison is probably best known in libertarian circles for his vocal criticism of the federal regulatory state and for his outspoken Ayn Rand fandom.
He's criticized the Affordable Care Act for encouraging employers not to insure their employees and instead pass the cost onto the government. That's because the Affordable Care Act is "designed to fail," he told John Stossel in 2011.
In 2012, Allison authored a piece for American Banker calling for a complete repeal of Dodd-Frank, the complex legislation passed in the wake of the 2008 economic collapse that gave the government broad powers to regulate financial institutions.
"It is not fixable," he wrote.
He called the parts of the law that deal with consumer compliance "a fundamental move towards statism" and said Dodd-Frank's curbs on debit card fees amounted to price fixing that would reduce the availability of banking services to low-income customers and increase costs for everyone else.
Allison criticized Dodd-Frank for failing to deal with the problem of institutions that are supposedly "too big to fail" by institutionalizing government bailouts as backstops against financial collapse.
"Instead, it identifies companies that are too big to fail and ensures that they will be protected by the government," he wrote.
Allison's bank accepted more than $3 billion from the federal government through the Troubled Assets Relief Program, or TARP, the name given to the bailouts that followed the 2008 financial meltdown. He later told the New York Times that BB&T was "forced" to accept the money.
In the years since the recession, Allison has written two books criticizing the federal government's heavy-handed efforts at regulating the economy back to good health and praising the value of free markets.
Underpinning his belief in the value of private property and his skepticism toward government intervention is a longstanding devotion to free market philosopher Ayn Rand. In a 2008 interview with NPR, Allison said that Rand changed his life and called Atlas Shrugged "the best defense of capitalism ever written."
Over the final three years of his tenure at BB&T, Allison gave grants to 25 colleges and universities to start programs dedicated to studying Rand's books, their underlying economic philosophy, and the works of other important works like Adam Smith's The Wealth of Nations.
"To say man is bad because he is selfish is to say that it's bad because he's alive," Allison told a crowd at a convention in 2009, per a New York Times account. "Put balls and chains on good people, and bad things happen."
This story has been updated to correct the attribution of the quote from Peter Goettler.