When Art Made by an American Indian Doesn't Count as Being 'American Indian-Made'
A lawsuit challenges Oklahoma's new law prohibiting some American Indian artists from calling their artwork what it is.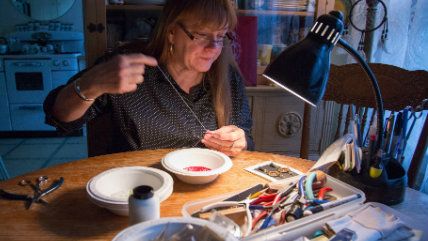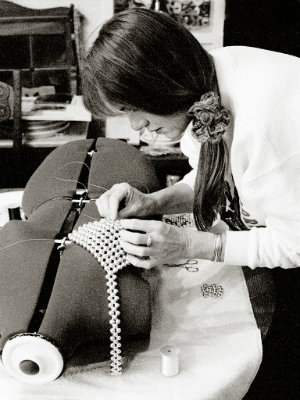 Peggy Fontenot is an American Indian artist, of that there can be no doubt.
She's a member of the Patawomeck tribe. She's taught traditional American Indian beading classes in Native American schools and cultural centers in several states. Her work has been featured in the Smithsonian's National Museum of the Native American.
In Oklahoma, though, she's forbidden from calling her art what it plainly is: American Indian-made.
A state law, passed earlier this year, forbids artists from marketing their products in Oklahoma as being "American Indian-made" unless the artist is a member of a tribe recognized by the U.S. Bureau of Indian Affairs.
The Patawomeck tribe is recognized by the state of Virginia, but not by the federal government. Fontenot says she can trace her Native American heritage back to the 16th Century, when the tribe was one of the first to welcome settlers from Europe who landed on the east coast of Virginia. She's been working as an artist since 1983, doing photography, beading, and making jewelry.
"I was born an American Indian. I've always been an American Indian," says Fontenot.
A lawsuit filed Tuesday in U.S. District Court in Oklahoma City argues that Oklahoma's law violates the First Amendment by restricting the speech of artists like Fontenot.
"In order to protect members of politically connected tribes from competition, Oklahoma officials are forbidding Fontenot from describing and marketing her art as what it is—American Indian art created by a Native American," says Caleb Trotter, an attorney with the Pacific Legal Foundation, which is representing Fontenot in the case.
Here's where things get even more strange. The state law in Oklahoma excludes tribes not recognized by the federal government's Bureau of Indian Affairs, but the federal Indian Arts and Crafts Act says an Indian artist is any artist with membership in a tribe recognized by federal or state authorities.
So, Fontenot is an American Indian artist under federal law, but she can't call herself that under Oklahoma state law because of a list maintained by a federal bureaucracy.
Oklahoma's American Indian Arts and Crafts Sales Act was signed by Gov. Mary Fallin in June after sailing through the state legislature with limited opposition. State Rep. Chuck Hoskin (D-Vinita), who serves as chief of staff for the Cherokee Nation, sponsored the bill. He told The Miami News-Record that the bill was meant to protect Oklahoma-based American Indian artists from people who "falsely claim heritage in order to market themselves as a Native artist."
Bill John Baker, chief of Cherokee Nation, said the law was "critical for us as Indian people to ensure Indian art is truly created by enrolled citizens of federally recognized tribes." The bill does not prohibit anyone from selling their art in Oklahoma, but prohibits the marketing of the art as "Indian-made," he wrote in April as the bill was being considered by the state legislature.
According to PLF, Oklahoma's law could affect as many as two-thirds of all artists who are defined American Indians under federal law. The state law also violates the U.S. Constitution's Commerce Clause by restricting the interstate American Indian art market, the lawsuit contends.