Trump Will 'Keep an Open Mind' About the Paris Climate Change Agreement
So says the president-elect in an interview this afternoon with the New York Times.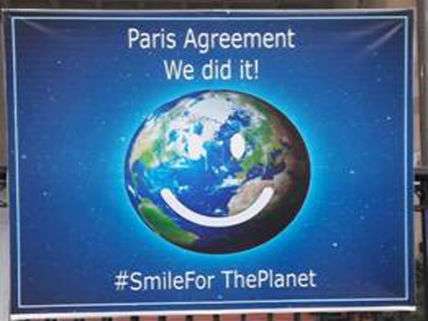 During the presidential campaign Donald Trump suggested that man-made climate change was a "hoax" perpetrated by the Chinese.* In addition, he declared that he would "cancel" the Paris climate change agreement. Today during an luncheon interview at the New York Times, president-elect Trump seems to have backtracked bit with regard to the Paris Agreement. From the Times:
President-elect Donald J. Trump said on Tuesday that he would "keep an open mind" about whether to pull the United States out of a landmark multinational agreement on climate change.

During his presidential campaign, Mr. Trump repeatedly said he would withdraw from the Paris climate accord. But on Tuesday, he said, "I'm looking at it very closely. I have an open mind to it."
Just exactly how to square his climate change open-mindedness with his promises to somehow revive the coal industry and deregulate fossil fuel production is not clear.
Addendum: Apparently Trump also told the Times reporters and editors that with regard to climate change, "I think there is some connectivity. Some, something. It depends on how much."
*As astute commenters have pointed out the hoax line was from a 2012 tweet. I hope that my error did not unduly confuse readers.