Unnecessary $54 Billion Transit Package Passes Easily in Seattle
The measure will take two decades to serve a mere 30,000 additional riders.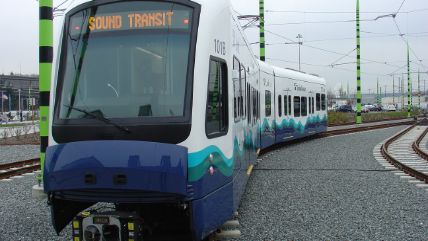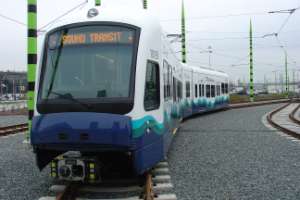 On Election Day, Seattle-area voters approved the massive Sound Transit 3 (ST3) proposition, which adds rapid bus service lines and 64 miles of light rail to the region's transportation network for the bargain price of $54 billion.
That the measure prevailed is hardly the most shocking thing to come out of this election. Traffic is becoming an increasingly important issue for Seattle, which ranks as one of the world's most congested cities, and ST3 was presented as the only way to tackle it by an array of influential voices.
Seattle mayor Ed Murray stumped for the transit expansion throughout the fall, while Amazon, Microsoft, and Boeing all gave generous campaign contributions. ST3 also racked up endorsements from many local media outlets, with everyone from the left-of-center Seattle Weekly to the left-of-Marx The Stranger promising that the massive ramp-up in public transit spending would alternatively ease traffic congestion, save the planet, and/or alleviate racial injustice.
This all proved more than enough, with ST3 passing by wide margins in almost every county where it was on the ballot. However, those residents waiting impatiently for ST3 to unclog the highways and open up the city may want to start moderating their expectations.
As Reason has previously reported, ST3 is unlikely to do much to relieve current traffic or accommodate the 800,000-plus people that are expected to move to the Puget Sound area over the next couple of decades.
Indeed, by Sound Transit's own numbers, the huge expansion will only serve an extra 30,000 riders by 2040, nowhere near enough of an impact to affect congestion levels. And this takes Sound Transit's most optimistic projections at face value, even though the agency (like so many others) has a history of cost overruns, construction delays, and wildly under-met ridership targets.
For instance, when Sound Transit first proposed a light rail system for Seattle, it projected that it would be delivering 105,000 riders per day by 2010. Instead, it took a mixture of a University of Washington football game, a Mariner's baseball game, and Friday nightlife traffic for the rail system to get above 100,000 for the first time—in October of this year. A typical day sees closer to 70,000 riders.
And the far-off 2040 completion goal for ST3 may very well be missed. When Seattle embarked on a far simpler light rail project in 1996, it still managed to miss its deadline by 10 years (and at over twice the projected cost). That scenario seems likely to repeat itself.
Seattle-area residents can at least take comfort in one predictable element of ST3: Come January 1, sales tax, property tax, and car registration fees will all go up to start paying for the $54 billion project.