Fashion Designers Are Boycotting Melania Trump. Shouldn't Bakers and Florists Have the Same Right?
Free association should not be for powerful liberals only.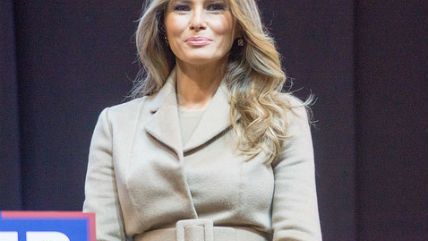 "As one who celebrates and strives for diversity, individual freedom, and respect for all lifestyles, I will not participate in dressing or associating in any way with the next First Lady," wrote fashion designer Sophie Theallet in an open letter this week.
People magazine reports Theallet, who has designed and donated clothes for outgoing First Lady Michelle Obama numerous times over the last eight years, may not be alone: "A source tells People, 'This has already been going on for months. Designers wouldn't lend to Melania, Ivanka or Tiffany, so they either bought the items themselves or wore Ivanka's brand. … There was a lot of shopping their own closets.'"
Personally, I applaud Theallet's design to disassociate herself with the next occupant of the White House. I see Donald Trump as a shameful human being with few redeeming qualities as a leader and even fewer as a person, and if I were a business owner, I too would decline to serve his administration.
Likewise, I support Bruce Springsteen's right to cancel his concerts in North Carolina in protest of the state's transgender-bathroom policies.
Both are examples of associational freedom—the right to make decisions for yourself about how and with whom you spend your time and energy. This includes the right not to take on a client or project that elevates, in your view, a value you disagree with.
The problem is not that Theallet was willing to dress Michelle Obama and isn't willing to dress Melania Trump (which is, like it or not, a form of discrimination). The problem is just how many people don't seem to think that same freedom should be extended to bakery owners, photographers, and other wedding vendors who object to same-sex marriage on religious grounds.
As Theallet put it, "we consider our voice an expression of our artistic and philosophical ideals." I suspect Barronelle Stutzman, the white-haired grandmother who owns Arlene's Flowers, feels the same way about her craft. But instead of assuming a live-and-let-live attitude on the matter, Washington state has systematically worked to destroy Stutzman's business unless she agrees to take part in a celebration to which she is morally opposed.
There's been a lot of discussion since Trump's victory last week of the apparent disconnect between rural and urban America—between wealthy elites and those who live in what has become less-than-affectionately known as "flyover country." This is a vivid example of that chasm.
Rights cannot be just for those who will use them to uphold the values you agree with. They must also be for those who will take positions you can't fathom for reasons you can't stomach. Free association, and the freedom to live out your convictions expressively in how you make a living, cannot be reserved for rock stars and fashion designers and other powerful liberals, while being denied to regular Americans.
"As a family owned company, our bottom line is not just about money," Theallet writes in her open letter. "We value our artistic freedom." Hear, hear.