How Not to Build a Jail
The D.C. jail has been a disaster for more than 100 years. Can a new jail avoid the mistakes of the past?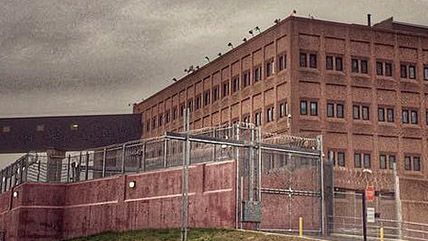 (Paul Goddin (Creative Commons))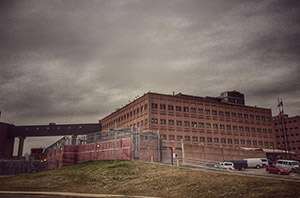 In the early hours of October 11, 1972, D.C. jail inmates Frank Gorham Jr. and Otis Wilkerson hatched a plan. Wilkerson pretended to be having a seizure, and when two correctional officers entered to check on him, his cellmate Gorham pulled out a loaded .38 revolver. Before long, 50 angry inmates were loose on the cell block, chanting "Attica!" They had 12 hostages, including the city's corrections director, Kenneth Hardy.
"Here I go again," Rep. Shirley Chisholm (D–N.Y.) said as she was rushed into the jail. Chisholm had been an observer at the Attica prison uprising a year earlier, where inmates at the upstate New York penitentiary had seized control and taken 42 hostages. The Attica rebellion ended after four days, when state troopers retook the prison by force, first dumping tear gas on the prison yard and then unleashing a 30-minute barrage of gunfire that left 43 people, including 10 of the hostages, dead. The D.C. inmates had requested that Chisholm and Marion Barry Jr., just then beginning his meteoric rise in local politics, hear their demands.
Attica's bloody climax was on Ronald Goldfarb's mind. Goldfarb, a local lawyer, was litigating an ongoing class-action lawsuit on the inmates' behalf; when he heard about the hostage situation, he drove to the facility to see what he could do. Goldfarb's suit argued that the Eighth Amendment's protections against cruel and unusual punishment covered not just direct abuse but the physical and psychological effects of overcrowding and poor conditions. In 1972, the D.C. Department of Corrections was operating at 56 percent over its rated capacity. A few years earlier, the American Civil Liberties Union had described the building, a structure built back in the 19th century, as "a filthy example of man's inhumanity to man."
When Goldfarb arrived at the jail, the inmates were holding Hardy up to a window with the gun against his head. They wanted an airplane. They wanted $1 million. But above all, they wanted someone to hear about the conditions they lived in. "We came to the conclusion we are going to die," one of the organizers of the uprising told him, according to The Washington Post. "When this is over, and the other brothers come along, make it better for them." Another inmate holding a knife shouted, "His head is coming off. You better believe it."
After nearly 24 hours of fraught negotiations, Goldfarb and the other observers convinced the rioters to release all the hostages except Hardy in exchange for an unprecedented late-night hearing before U.S. District Court Judge William Bryant, who allowed six inmates to present their grievances before the court. As compensation for a peaceful resolution, Bryant offered every inmate a lawyer. They agreed, and representatives from the nascent Public Defender Service of D.C., who had came to the late-night court hearing at the request of the judge, were sent to the jail to interview inmates. In the years that followed, Bryant ruled in two different lawsuits, including Goldfarb's, that the overcrowded, unsanitary conditions that prevailed inside the D.C. jail violated inmates' Eighth Amendment rights.
"For imprisonment under such conditions," Bryant wrote, "where a man may be stuffed into a tiny cell with another, surrounded by the nocturnal moans or screams of mentally disturbed but untreated fellow inmates, plagued by rats and roaches, sweltering by summer and shivering by winter, unable to maintain significant contact with his family in the outside world, sometimes going for long periods without real exercise or recreation, can only have one message for him: Society does not acknowledge your existence as a fellow human being. And when that message is delivered in the D.C. Jail, whatever small chance may have existed that a person might act as though he were a member of a civilized society is obliterated, along with his decency and humanity."
In 1976, a new D.C. jail opened its doors—the one still in use today. The old one was emptied and eventually torn down. Its stones were used to restore the venerable Smithsonian Castle; they had been mined from the same quarry a century before. But the new facility's troubles began before the ribbon cutting: The maximum capacity when it opened was 960 inmates. The average daily population of inmates that year was 1,218. In other words, D.C. built an institution that was overcrowded before the first resident bunked down for the night.
The story of the D.C. jail is a tale of the repeated triumph of hope over experience. District politicians have always wanted to lock up more people than they're willing to pay to incarcerate. Even in the capital city, with all the resources of the federal government to draw on and the best possible chance to influence national policy, the District of Columbia seems incapable of building and running its single jail effectively. Without a re-evaluation of who we're keeping in jail, why we're keeping them there, and what we expect them to do during and after their incarceration, history looks very likely to repeat itself.
"It came off without any deaths," Goldfarb says of the 1972 hostage situation. "To that extent, it was a better conclusion than the comparable situations, and we did win our case eventually. That said, one can look back and say, 'All that happened, but do we have a better jail system?' Sadly a lot of those problems remain."
'The Slave-Pen'
For just about as long as there's been a District of Columbia, the D.C. jail has been trouble. It sits on Reservation 13, a tract of federal land south of Capitol Hill where the District has dumped undesirables throughout its history. Next to the jail is D.C. General, the city's crumbling and misery-ridden shelter for homeless families.
The jail holds all the District's pretrial detainees, misdemeanor offenders serving their sentences, and felony offenders awaiting transfer to a prison. As of October 2015, according to the D.C. Department of Corrections, the average length of stay for male and female inmates was 170 and 94 days, respectively.
In the 19th century, Reservation 13 also contained the Washington Asylum, which held both a workhouse for criminals and an almshouse for the poor, and occasionally took in stray animals as well. During epidemics, the field around the asylum would swell with wooden shanties holding the sick. There was also a graveyard (with coffins supplied by the workhouse), a potter's field for the indigent dead (supplied by the almshouse), and a crematorium.
The history of the jail, like so much in the city, is tangled up in high national drama. The people locked up there over the decades include President James Garfield's assassin, who was hanged after he failed to sway a jury with his defense ("The doctors killed Garfield. I just shot him"); suffragettes arrested for protesting outside the White House; six Nazi saboteurs; Joe Valachi, the first mafioso to break the code of silence and testify before Congress about the existence of la Cosa Nostra; and G. Gordon Liddy, who chose a cell over testifying about Watergate.
The old jail on Reservation 13 was built in 1872 to replace an overcrowded and much-loathed downtown building known alternatively as "the blue jug," for its faded blue paint, and as "the slave-pen," for its history of holding alleged runaway slaves, many of them arrested on no pretext other than their lack of a master. As early as 1894, The Washington Bee reported: "The United States Jail is overcrowded."
In 1908, President Theodore Roosevelt formed a special penal commission to investigate rumors of wretched conditions at the D.C. jail. "The report sets forth vividly the really outrageous conditions in the workhouse and jail," an outraged Roosevelt wrote after reading the commission's findings. "The overcrowding is great in the workhouse, and greater still in the jail where, of the six hundred inmates, five hundred are serving sentences in absolute idleness, with no employment and no exercise.…It is no longer a question of what shall be done, for it is quite impossible that the existing condition should continue. The present antiquated and unsatisfactory plan ought not to be considered for a moment."
The administration then ordered the construction of a sprawling, 3,200-acre correctional compound in Lorton, Virginia, which would act for nearly 100 years as the District's equivalent of a state prison to house felony offenders.
The Lorton facility was completed in 1916, but the horrific conditions for those awaiting trial at the jail was not a problem the city could build its way out of. More wings were added in the 1920s, but by 1957 the D.C. Board of Commissioners once again reported that it was dangerously overcrowded, which led to "idleness" and made it "next to impossible to devise work or rehabilitation programs." Inmates slept on mattresses in the chapel during peak periods, and many were doubled-up in cells meant for one person. (The 1957 report called double-celling a "universally condemned practice." There are around 10,000 double-celled inmates in the federal prison system today.)
Walled In
The "antiquated and unsatisfactory plan" condemned in 1908 remained firmly in place after the opening of the current facility in 1976, which was still essentially a building filled with too many people who had too little to do and nowhere to do it.
The current D.C. jail is close to what you probably imagine if you think of the stereotypical prison seen on television—long hallways and rows of cells. The cell blocks are laid out in v shapes, with a guard station at the intersection, giving correctional officers straight lines of sight down each corridor. Two tiers of cells face each other down each line. Between the rows is a corridor about 20 feet wide. And that's pretty much all there is. During the long decades when every cell was full, that means there was no space for rehabilitative programs, vocational training, or educational programs.
Stuck with its inadequate design, the city added more space to the jail in the early '80s. Bryant and two other federal judges entered numerous court orders over the '80s and '90s to force the city to improve conditions at Lorton and at the jail. Bryant held then–Mayor Marion Barry in contempt of court in 1983 for violating his orders and fined him $50,000. He also put a cap on the jail population in 1985 after an unannounced inspection, where he found inmates sleeping in the hallways and double-celled, no different than in the old jail.
Jonathan Smith, the executive director of the Washington Lawyers Committee for Civil Rights and Urban Affairs (WLC), was involved in the continued litigation over the jail population in the 1990s. He says at one point in the mid-'90s, the city would pack inmates on a bus and send them on a loop around the Beltway so that the morning head-counts would be within the court-ordered limits. In 1995, disgusted by the city's inability to abide by his orders, Bryant placed the facility's medical services under receivership.
These shenanigans coincided with the period when D.C. was affectionately known as the murder capital of the United States. The number of homicides in Washington peaked in 1991 at 479—almost 80 homicides per 100,000 residents.
By 1997, after years of mismanagement and structural tax deficiencies, the District of Columbia was teetering on the edge of bankruptcy and its prison system was out of control. In the dilapidated and understaffed Lorton complex, corrupt officers ran prostitution rings and heroin smuggling operations. During one trial, an inmate testifying on the stand regurgitated and dramatically flourished a handcuff key that he had wrapped in a condom and swallowed, as proof of collusion between inmates and staff. The prison's solitary cell block for mentally ill and troublesome inmates was known as "the house of pain." ("Because if you fuck[ed] up," one correctional officer testified in court, "we [would] deal with you on our own basis.") One inmate confined to that infamous cell block successfully sued the District for $175,000 in 1997, alleging that he continually gagged on noxious smoke from inmate-set fires and the smell of human waste, and that the prison neglected to treat his skin cancer.
In 1997, Congress passed the National Capital Revitalization and Self-Government Improvement Act, which moved much of the administration and costs of D.C.'s criminal justice system to the federal government. Lorton closed in 2001, and the last of its inmates was transferred to federal Bureau of Prisons facilities, a practice that continues today. There are roughly 5,000 felony offenders from D.C. serving time in federal prisons as far away as Florida, Texas, and California. A 2010 Urban Institute study found one in five D.C. inmates were housed more than 500 miles from home.
Inmates who are released are handed a bus ticket back to a city they may not recognize. Washington City Paper reported earlier this year that "out of the 11,577 individuals released from custody in 2014," the District's re-entry program "served only 191—or 1.6 percent—of them."
D.C. Renaissance
The 2000s were in many respects a renaissance for the District of Columbia. The city's economy was booming and, as in the rest of the country, crime rates were dropping. In 2003, as the District was getting its fiscal house cleaned up, Judge Bryant terminated the last of his orders mandating oversight of the jail's population, environmental conditions, and mental health treatment. The decision officially ended the two lawsuits that Bryant had ruled on in 1975 and '76, closing the book on 32 years of ongoing litigation over the District's jail.
But something curious was going on in the city's criminal justice system. At the same time violent crime rates were falling, incarceration rates were spiking. In 2002, the jail's daily population sometimes exceeded 2,400, an all-time high. The culprit, according to a 2006 report by the D.C. Criminal Justice Coordinating Council, was the aggressive enforcement of low-level offenses, drug crimes, and parole violations, along with unusually lengthy sentences.
"The DC jail population is predominantly filled with black males who have been either charged or convicted of drug crimes, other non-violent crimes, or have violated the terms of parole (and probably probation)," the report said. "The time they spend incarcerated, compared to other jurisdictions, is excessive." By 2007, the jail population had been capped at 2,164, which meant that 1 out of every 50 adults in D.C. was incarcerated, compared to 1 in 100 nationally, according to a Pew Center report. From 1982 to 2007, the D.C. prisoner population grew by 48 percent. Although those numbers have trended down in recent years, the Prison Policy Initiative issued a report in June that found D.C. is the world's top jailer. If it were a country, it would have an incarceration rate of 1,196 per 100,000, twice as high as Turkmenistan.
Everything New Is Old Again
This July, 70-year-old D.C. jail inmate Lester Irby fell over dead in the middle of a record heat wave.
The medical examiner listed Irby's official cause of death as a heart attack, but the death made local headlines, in part because everyone had been expecting, and dreading, the moment when someone finally keeled over from the heat.
The old, overworked air conditioning system in the D.C jail could barely get fresh air into the cell blocks. Corrections officers set up large industrial fans in the hallways and distributed cups of ice, but one inmate told NBC News4 that temperatures inside his cell were hovering at 87 degrees at 5 o'clock one morning.
The WLC said it was receiving daily letters from inmates about the excessive heat, and the local correctional officers union filed a complaint over the conditions as well.
"The heat, the air conditioning, all the quality-of-life issues are way past their life expectancy," Sgt. John Rosser, the chairman of the local correctional officers union, says. "My hat is off to the last 20 years' worth of administrations that have band-aided this to keeping it where it is now."
The new jail is old again, and the old problems are new again. The walls are cracked, the pipes leak, and bugs are common. The WLC released a 2015 report that found that the facility's "physical infrastructure appears to be crumbling and multiple inspections have revealed unsanitary conditions and non-compliance with basic standards established by national correctional authorities." Heavy rain damaged the roof earlier this year, forcing administrators to move 120 inmates.
The problems and controversies within the D.C. jail and the city's larger justice system aren't unique to the District. As a national discussion on the criminal justice system continues to play out, more and more scrutiny is being paid to poor conditions in jails and prisons. There has been a wave of lawsuits challenging excessive heat in institutions across the nation. The Associated Press recently reported that Louisiana spent more than $1 million fighting a lawsuit to force it to put air conditioning on death row at Angola Prison, even though installing the air conditioning would only have cost about $225,000.
Unlike some jurisdictions, D.C. is at least trying. This spring, the jail converted one of its cell blocks into what it calls a "mental health step-down unit," addressing longstanding concerns about the jail's mental health services. Before, the only housing for mentally ill inmates was "pretty clearly solitary confinement," says Tammy Seltzer, director of the D.C. Jail and Prison Project. "In a cell except for one or two hours a day. Strictly medicine, no therapy at all."
The goal of the new step-down unit, D.C. Department of Corrections Director Tom Faust says, is "as the name says, to step them down, but still in a therapeutic housing community, where individuals can still have daily counseling and programming, with the end game being transitioning back into the general population and interacting at a satisfactory level, or back into the community where they are better prepared and equipped in terms of mental health treatment."
Eventually Faust wants to move the new jail to what is known as a "direct supervision" model, like the one he ran while he was sheriff of Arlington County. Faust says most new jails today are built along this model, in which inmates are housed in podular units, instead of linear cell blocks. A correctional officer sits at an open desk in the center of a common area, giving him or her a line of sight into every cell, changing the way that officers interact with prisoners.
The model Faust describes isn't possible in the current jail, but with the conditions there deteriorating past the point of cosmetic fixes, the city is beginning to plan for another new facility to replace it.
If at First You Don't Succeed
Recently, something happened in D.C. that hasn't happened in over a century. The D.C. jail now has more cells than it needs. The daily average population being housed by the D.C. Department of Corrections has started falling, from 3,089 in 2009 to 2,041 in 2014. This trend has only accelerated with the decriminalization and then legalization of marijuana in the District.
What the jail doesn't have is room for anything else. The only space for rehabilitative and educational programs is in the 20-foot-wide corridors between the rows of cells.
"We probably don't need a jail that holds as many people as the one now was designed to hold," D.C. Deputy Mayor for Public Safety Kevin Donahue says, "and it doesn't provide the programming space we need."
In May, the D.C. Department of General Services issued a solicitation for proposals for new jail designs, and in September, a city council-approved study began of the current jail and likely needs of a future jail.
It's a complicated undertaking. Everyone seems to want better re-entry programs for inmates. Rosser wants more staff and better pension benefits for correctional officers, which he says currently lag behind both union-friendly Maryland and right-to-work Virginia. The city would reportedly like Reservation 13—now a very valuable plot of land—cleared for development.
"Every agency that provides any services—courts, parole commissions, supervisory agencies, and the community and family members—need to be a part of this discussion," Seltzer says. "Looking at this in a vacuum as just a corrections issue is going to miss an opportunity to right-size the jail and reduce incarceration and recidivism. It's really a values issue."
This is all far in the future. D.C. officials haven't even speculated on a timeline for constructing a new jail yet, and where it will go and how the city will pay for it are both open questions. Considering that the last jail lasted 100 years before it was torn down, Rosser isn't optimistic about the prospects for replacing the current one anytime soon. "At the rate the city is moving now, we'll be talking about this one in 2076," he said.
Good system design and good luck in national crime trends only get you so far. To avoid detention déjà vu, a new jail must be built as part of a criminal justice system that looks at alternatives to incarceration and only locks up those for whom imprisonment is the most appropriate option—and has clear standards and goals for the people it does imprison.
Shortly after his interview with reason, Faust quietly announced he would retire in November. A couple of weeks later, so did the warden of the D.C. jail—part of a continuing shakeup of the District's corrections system. Whether their replacements will share their vision for the future remains to be seen.
Nothing New Under the Sun
The District of Columbia is once again facing a choice of not just what kind of jail it wants, but what kind of city it wants. The underlying question is whether it has learned from the errors of its past. Combing through old reports and newspaper articles, what's most striking is how many times over nearly 150 years public officials have come to the exact same conclusions about the problems at the jail.
A D.C. grand jury declared in 1861 that the old facility was "a badly ventilated, unwholesome building, unfit in nearly every respect for the purpose for which it was designed." A Washington Evening Star reporter that same year called it "an architectural abortion," and the paper later wrote that "our grand juries, local committees before Congress, and newspapers, have year after year directed the attention of Congress to the matter—namely: that the jail of Washington county is miserably constructed, badly lighted, and poorly ventilated; and that it is inhuman to confine even the vilest criminals in its reeking cells."
A 1966 report of the President's Commission on Crime in the District of Columbia concluded that "a new facility is needed not only because of overcrowding, which has marked the jail in the past," but for the opportunity to provide "diagnostic services, treatment programs for problem inmates, and recreation for all inmates."
In 1995, Rep. Frank Wolf (R–Va.) said on the House floor that the "parallels between the present situation and those described by President Roosevelt in 1908 are remarkable. Today, more than 85 years later, District of Columbia prisoners still serve their sentences in absolute idleness, and many of the concerns that led to the establishment of Lorton 85 years ago still exist."
Goldfarb, the lawyer and negotiator at the 1972 hostage situation, was arguing in the mid-'60s that a new building was only a Band-Aid for the systemic problems with criminal justice in the District, and that alternatives to incarceration had to be considered.
"Sadly for me, as I look back decades later, investigative journalists are rediscovering all these old problems," Goldfarb says wearily. "We get good journalism, we get good books, but we don't get better jails."
This article originally appeared in print under the headline "How Not to Build a Jail".