Anti-Obama Protests as President Arrives in Greece, Trump Says Only He Knows Cabinet Finalists, Some Clinton Supporters Want Electoral College to Vote for Her: P.M. Links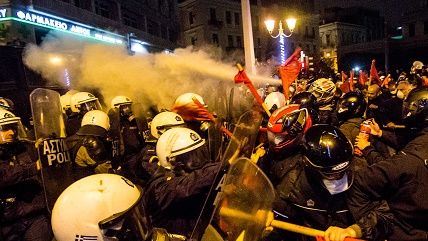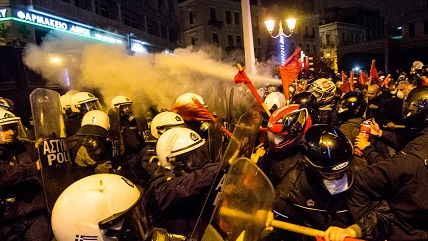 (Pacific Press/Sipa USA/Newscom)
Pacific Press/Sipa USA/Newscom

President Obama arrived in Greece, while riot police there clashed with anti-Obama demonstrators.

Donald Trump says a very organized process was taking place for his transition, and that only he knew who the finalists for appointments were. Supporters of Hillary Clinton are pushing a petition to have the Electoral College vote for her instead.
A number of still outstanding 2016 elections include who won the governor's race in North Carolina.
Senate Democrats selected Chuck Schumer as the minority leader and named Bernie Sanders "chair of outreach," one of three new Democrat positions.
The officer who shot and killed Philando Castile was charged with manslaughter.
Police in Nigeria have foiled an alleged plot to kidnap an oil magnate that involved at least one military official.
Conor Macgregor says he wants $100 million to fight Floyd Mayweather under boxing rules.