John Kerry's Climate Change Swan Song at Marrakech
"No one has the right to make decisions that affect billions of people based solely on ideology."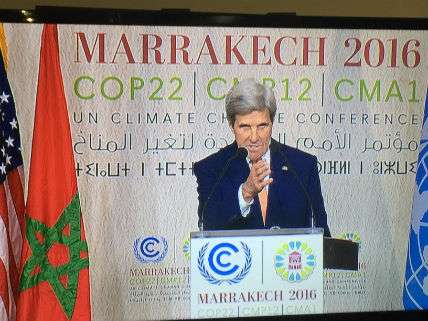 Marrakech—The standing room only crowd rose to its feet and burst into sustained applause when Secretary of State John Kerry walked into the Fes press conference tent at the Bab Ighli site of the COP22 U.N. climate change meeting. I thought that only U.N.-accredited media and members of the U.S. delegation were admitted to the venue. Odd. Kerry opened by acknowledging that at Marrakech he was "preaching to the choir" and that "all of us here are the proverbial choir." The Secretary of State evidently knew his audience better than I did.
"No one should doubt the overwhelming majority of the citizens of the United States, who know climate change is happening and who are determined to keep our commitments that were made in Paris," asserted Kerry near the beginning of his clearly heartfelt speech.
Just before Kerry spoke, the U.S. delegation submitted under the Paris Agreement on Climate Change a long-term climate strategy for deep decarbonization of the U.S. economy by 2050. The strategy "envisions economy-wide net GHG [greenhouse gas] emissions reductions of 80 percent or more below 2005 levels by 2050." The Obama administration had earlier promised to reduce U.S. GHG emissions by 26 to 28 percent below their 2005 levels by 2025.
The Secretary of State noted since the Obama administration came into office in 2008 that electricity generated by wind power had tripled while solar power generation had grown 30-fold. For context, wind currently provides 4.7 percent and solar 0.6 percent of U.S. electricity. Kerry nevertheless believes that market forces are already driving the switch from fossil fuels to renewable power sources. "I can tell you with confidence that the United States is right now, today, on our way to meeting all of the international targets that we have set, and because of the market decisions that are being made, I do not believe that that can or will be reversed," Kerry claimed. "Emissions are being driven down because market-based efforts are taking hold."
"We are not on a pre-ordained path to disaster," Kerry declared. "It is a test of willpower. It requires us to hold ourselves accountable to facts and to science." Kerry noted that 2016 is likely to be the hottest year in recorded history, adding that 15 of the 16 hottest years in recorded history have occurred since the beginning of the 21st century. The last decade was the hottest in recorded history; the decade before that was the second hottest, and the one before that was the third hottest. "For those in power in all parts of the world, including my own, who may be confronted with decisions about which road to take at this critical juncture, I ask you, on behalf of billions of people around the world: Don't take my word for it," he pleaded, "I ask you to see for yourselves." Kerry further urged, "Above all consult with the scientists who have dedicated their lives to understanding this challenge." He asserted, "At some point, even the strongest skeptic has to acknowledge that something disturbing is happening."
Like other members of the U.S. delegation here at the climate change conference, Kerry did not offer any conjectures about what the Trump administration's policy with regard to climate change might be. He did say, "While I can't stand here and speculate about what policies our president-elect will pursue, I will tell you this: In the time that I have spent in public life, one of the things I've learned is that some issues look a little bit different when you're actually in office compared to when you're on the campaign trail." Toward the end of his talk Kerry declared, "No one has the right to make decisions that affect billions of people based solely on ideology or without proper input."
Kerry observed that he had been participating in the U.N. climate change negotiation process ever since the Earth Summit in Rio de Janeiro in 1992. (I was there as a reporter too.) He suggested that he would attend the next COP as plain old "Citizen Kerry." Kerry received two minutes of sustained standing applause as he departed.