A.M. Links: Obama vs. Trump, Giuliani Says He 'Won't Be Attorney General,' Russia Launches New Syria Offensive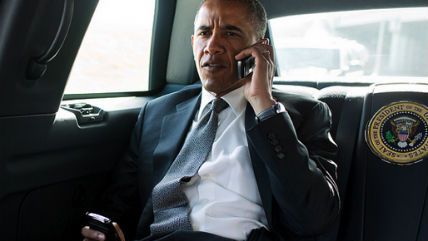 White House / Flickr.com

"From the Iran nuclear deal to the Paris climate change agreement to Obamacare, President Obama and his team plan to spend the next two months aggressively defending and implementing these policies, despite President-Elect Donald Trump's campaign promises to end them once he takes office."

Rudy Giuliani: "I won't be attorney general." But Giuliani is reportedly the top contender to be Donald Trump's secretary of state.
Los Angeles Police Chief Charlie Beck: "We are not going to engage in law enforcement activities solely based on somebody's immigration status. We are not going to work in conjunction with Homeland Security on deportation efforts. That is not our job, nor will I make it our job."
The Traverse City, Michigan, police officer who flew a Confederate flag near a group of anti-Trump protesters has resigned.
Russia has launched a new offensive in Syria.
Google is vowing to crack down on fake news.
Follow us on Facebook and Twitter, and don't forget to sign up for Reason's daily updates for more content.