Colleges Canceled Exams for Students Traumatized by Trump's Election
Lack of ideological diversity left campuses unprepared to cope with reality.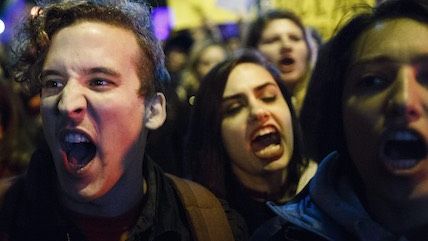 (JUSTIN LANE/EPA/Newscom)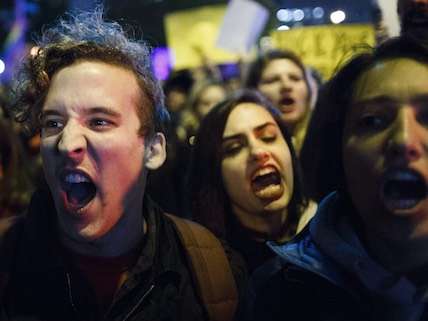 So it begins: American college campuses are currently experiencing a collective freak-out over the impending Trump presidency. Professors and administrators have cancelled exams and sent messages of support to students feeling traumatized by the election results.
A University of Michigan psychology professor delayed an exam until next week and wished students good fortune during this "tumultuous time." Some Columbia University professors postponed midterms as well. A University of Connecticut professor excused students from attending class. And at Yale University, one professor decided to make an upcoming exam optional.
Administrators were quick to reassure students that universities offer myriad counseling options.
"This election has been unusual in that specific statements were made about various groups of people who often feel marginalized and unsafe," wrote Northwestern University Vice President Patricia Telles-Irvin in a campuswide email. "Partisan, inflammatory statements unfortunately seem to be part of modern campaign rhetoric, but they cause real wounds. As we move beyond a divisive election, we therefore recognize the need for healing of those wounds. With this in mind, we want to extend support to those students who are experiencing difficulty at this time."
Students, predictably, were apoplectic. Cornell University students held a "cry-in." Loyola University and Byrn Mawr College students demanded the cancelling of classes, citing exhaustion, depression, and safety concerns, Campus Reform reported:
"A Trump election directly endangers the lives of all students at Bryn Mawr College that are people of color, lgbtqa+, non-Christian, and female," a signee of the Bryn Mawr petition claimed. "If Trump wins, it's not only a question of self care but personal safety."
I don't blame students for being really, really upset about Trump's win. I know plenty of mentally stable, not-at-all-coddled people who were similarly upset. But they all still went in to work on Wednesday. Life goes on.
It's possible the news is hitting students even harder than it hit members of the liberal media—college students, after all, are even more out-of-touch with the Trump movement than the media is. College campuses have created safe spaces to wall students off from the mildest forms of disagreement. Too many of them simply had no idea that great numbers of Americans despised their progressive agenda and were eager to strike a blow against political correctness.
Fordham University's Charles Camosy identifies the problem—a lack of viewpoint diversity in higher education—in an excellent Washington Post piece:
Today's college graduates are formed by a campus culture that leaves them unable to understand people with unfamiliar or heterodox views on guns, abortion, religion, marriage, gender and privilege. And that same culture leads such educated people to either label those with whom they disagree as bad people or reduce their stated views on these issues as actually being about something else, as in Obama's case. Most college grads in this culture are simply never forced to engage with or seriously consider professors or texts which could provide a genuine, compelling alternative view.

For decades now, U.S. colleges and universities have quite rightly been trying to become more diverse when it comes to race and gender. But this election highlights the fact that our institutions of higher education should use similar methods to cultivate philosophical, theological and political diversity.
One final note: The College Fix's article about Cornell's cry-in quotes a terrified student expressing regret that "people are really given into fear-mongering. They are willing to put people down based on their identity just so that they would feel vindicated…"
Disparaging people because of their identity is certainly unkind. But the campus left does this all the time. Ohio's College of Wooster recently hosted a retreat for students of color that offered them the opportunity to de-stress—by getting away from white people for a while. One of the planned events was titled "Dealing with White Fragility."
Wait! I thought it wasn't okay to put people down because of their identity?
It's true that white people voted en masse to elect a candidate who vowed retribution against religious and ethnic minorities. They voted in accordance with the interests of their identity group, to the detriment of individual rights and society at large. And they deserve the blame for that.
But campus progressives have willfully pushed race-based and identity-group-based classifications: calling for segregated safe spaces and programs for students of color, LGBTQ students, Native American students, Latinos, and so on. At the same time, they have assailed white privilege and white fragility, treating white people like the enemy. In electing Trump, whites may have lived up to their expectations, but I can't help but wonder whether that was a foreseeable consequence of the left's campaign to demonize them.