Donald Trump Projected Winner, President-Elect
GOP also keeps control of Congress.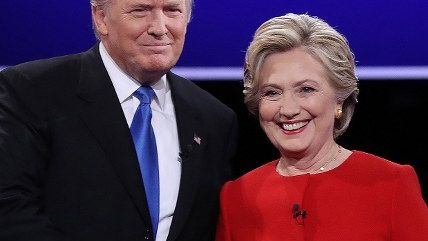 (Justin Lane/EPA/Newscom)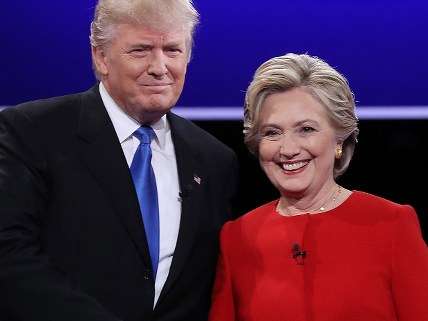 UPDATE (2:30 a.m.): The Washington Post and the Associated Press have projected that Donald Trump has surpassed the 270 electoral vote threshold and is America's next president-elect.
Sources have said that Hillary Clinton has apparently conceded over the phone to Trump, but she will not be publicly speaking this evening.
The Republicans will also maintain control of both the House and the Senate. It's a full sweep for the party.
UPDATE (2 a.m.): John Podesta just came out to speak to Hillary Clinton's gathered supporters. She will not be speaking tonight apparenty and they're waiting for the voting to complete. There will be no concession speech tonight.
UPDATE (1:45 a.m.): Pennsylvania has been called for Trump. He's now ahead of Clinton, 264-215. It's nearly over.
UPDATE (1:30 a.m.): Republican Sen. Pat Toomey has fended off Democrat Katie McGinty to keep his seat representing Pennsylvania. Barring any surprises, the GOP will maintain control over the Senate.
Trump has been projected to win Alaska.
UPDATE (12:30 a.m.): Trump has taken Iowa and Utah. Clinton has taken Nevada. Trump is ahead in electoral votes, 244 to 215. 270 electoral votes are needed to win.
Incidentally Evan McMullin got as many votes as Clinton in Utah, about 21.5 percent of the vote.
UPDATE (11:50): Georgia has been called for Donald Trump. He's ahead 232 to 209.
UPDATE (11:40): In Wisconsin, Democrat Russ Feingold has failed to take Ron Johnson's seat. While it's nowhere near official, current trends suggest that the Republicans will maintain control of the Senate.
Oregon and Washington have been called for Hillary Clinton. The current numbers have Trump with 216 electoral votes and Clinton with 209.
In ballot initatives legal marijuana is currently passing in California, Maine (barely), Massachusetts, and Nevada, but failing in Arizona.
Minimum wage increases are getting the thumbs' up in Arizona, Colorado, Maine and Washington. South Dakota has voted against a ballot initiative that would reduce the minimum wage for minors.
Currently Californians are rejecting an effort to end the death penalty. Nebraska voters decided to restore the state's death penalty. Oklahoma voted to enshrine the death penalty in the state's constitution.
UPDATE (11:10): Donald Trump may win the presidency but may lose a major supporter. Sheriff Joe Arpaio has been ousted from his iron rule in Maricopa County in Arizona.
UPDATE (11): Some outlets are calling Florida for Trump. Others are also calling North Carolina for Trump. The New York Times forecast is now giving Trump a 94 percent chance of winning. President Trump? Is it time to start practicing saying that?
As predicted, Clinton has taken California and Trump takes Idaho.
UPDATE (10:40): Virginia has been called for Clinton. Current count: Trump has 167 electoral votes. Clinton has 122. Wisconsin, Michigan, Pennsylvania, and Florida are some of the major swing states that haven't been called yet.
UPDATE (10:20): New Mexico has been called for Hillary Clinton and Missouri for Donald Trump. Gary Johnson is getting about 8.3 percent of the vote in New Mexico. Current electoral votes: 149 for Trump; 109 for Clinton. The New York Times has Trump's chance of winning now up at 80 percent. (UPDATE UPDATE: CNN just called Ohio for Trump)
In the Senate, Richard Burr in North Carolina appears poised to retain his seat.
UPDATE (10): New round of poll closings, but the only immediate call is Montana for Trump. The predictions that Trump could win this are slowly increasing. The stock market is nervous.
In ballot initiatives, Colorado voters have approved allowing for assisted suicide for terminally ill individuals. Currently all pro-marijuana ballot iniitiatives are winning where the polls are closed (Nevada and California don't have numbers yet). But tallies are close in some cases and the only sure victory so far is Florida's medical marijuana.
UPDATE (9:30): The New York Times forecast is now giving Donald Trump an increasing chance of winning the presidency. As the evening has progressed, Hillary Clinton's chances have significantly dropped, in their estimations. Check out the data live here.
In addition, Clinton is the projected winner in Connecticut. Trump is the projected winner in Louisiana. Trump now is now leading in the electoral vote, 136-104.
UPDATE (9:15): Texas and Arkansas have been called for Trump. He's currently ahead now 128 to 97. Pivotal states Florida, Ohio, Michigan, and Virginia are still very much unclaimed.
UPDATE (9 p.m.): A good chunk of states' polls are closing and there's a bunch of new projections. For Clinton: New York and Illinois. For Trump: North Dakota, South Dakota, Wyoming and three of five of Nebraska's electoral votes. Current tally: 97 electoral votes for Clinton; 84 for Trump.
Multiple media outlets are calling that the House of Representatives will remain under Republican control. Charlie Crist (now a Democrat) won a seat in the House in Florida.
UPDATE (8:30 p.m.): South Carolina and Alabama have both been called for Trump. It's now 66 electoral votes for Trump and 68 for Clinton.
In some other races, Republcian Gov. Pat McCrory, defender of North Carolina's transgender bathroom law HB2, is losing badly to Democratic challenger Roy Cooper at the moment.
In Indiana, Republican Todd Young is handily beating Evan Bayh to replace outgoing Sen. Dan Coats. If Young wins, it will keep the seat in Republican hands.
UPDATE (8:15 p.m.): Democrat Rep. Tammy Duckworth has been projected as defeating incumbent Republican Mark Kirk in Illinois to take his seat. This is the first pickup for the Democrats.
Right now in Florida, Trump and Clinton are almost completely tied in the vote. Gary Johnson is getting 2.1 percent of the vote there, so Libertarians should expect to be blamed by whichever side loses.
UPDATE (8 p.m.): A host of states have closed and there's been a ton of immediate projections for states that were not particularly competitive. Clinton adds: Massachusetts, Rhode Island, Maryland, Delaware, New Jersey, D.C., and Illinois. Trump takes Tennessee, Oklahoma, and Mississippi. Clinton is ahead in electoral votes, 68 to 48.
In Florida, the ballot initiative to permit medical marijuana use is currently passing with 69 percent saying yes. Only 14 percent of the vote has been counted. It needs 60 percent of the vote to pass.
The Associated Press is calling that Sen. Marco Rubio will keep his seat in Florida.
UPDATE (7:30 p.m.): West Virginia has been called for Donald Trump. Florida's polls have closed, and the numbers are close between Trump and Clinton. Marco Rubio is currently ahead to retain his Senate seat.
As for Gary Johnson, he's currently getting less than five percent of the popular vote in every state currently releasing numbers, except for New Hampshire, where he's got 6.6 percent.
UPDATE (7 p.m.): As more polls on the east begin to close, we have our first state projections. Several outlets are calling Kentucky and Indiana for Donald Trump and Vermont for Hillary Clinton. It's too early to call other races. Sen. Rand Paul (R-Ky.) has been projected as keeping his seat.