3 Libertarian Party Races to Watch (Besides the Presidential Ticket)
Lily Tang Williams, for Senator from Colorado; Thomas Simmons, for House of Representatives from Massachusetts; Mark Miller, for Texas Railroad Commission
Nearly all the national media attention for the Libertarian Party (L.P.) this year has gone to its presidential ticket of Gary Johnson and William Weld. But the L.P. has over 600 candidates running for other federal, state, and local offices.
Here are profiles of three candidates who many Party officials and activists are particularly excited about this year.
Williams, an immigrant from China, achieved the difficult-for-the-L.P. goal of appearing in a public debate with her competitors, Democratic incumbent Michael Bennet and Republican challenger Darryl Glenn. She won entry into the September debate because the Party in Colorado commands a full percentage point of registered voters in the state.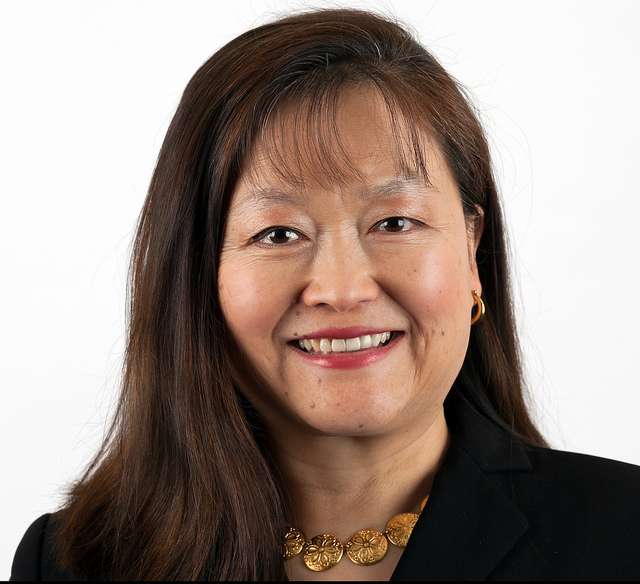 In her estimation, she said in a phone interview this weekend, that experience "was great. People gave me the loudest cheers, and it was a 70 percent Republican and 30 percent Democrat crowd. People like my amazing personal story and my principles. I explained to them that we need to have government more limited to guarantee our own liberty" and that the two major parties will not do that.
Williams details how and why her experience growing up in China shapes her admiration and dedication to American liberty on her campaign bio.
She tells people that she came here from communist China "for freedom and prosperity and the American dream. I am not partisan; I would just like to see my country be the free country I came here for.
"I tell people I am not a career politician, I will always tell the truth, and the only thing I care about is freedom, not special interests, not partisanship, not any of the things the two parties are about. I will impose a two-term limit on myself and promise to never be a paid lobbyist when I leave. My slogan is: Lily for Liberty, and Not For Sale."
Her issues page gets in the weeds of a wide range of libertarian policy stances, from spending to the environment to marriage and corruption.
"My husband is a libertarian and he played an important role to convince me" to join the Party, Williams says. "Because I used to tell him, 'You guys are too small, you cannot win.' And people are telling me that now! But after 2008 [and the bailouts] I didn't care. I have to stay true to my principles," so she joined the L.P.
Williams has been active with the L.P. since then, volunteering as local district coordinator for Gary Johnson's campaign in 2012, testifying in the state capital against gun control measures, and running for the Colorado state House in 2014 and getting 6.4 percent in a three-person race, unusually good for a Libertarian candidate. (Republican Jack Hilbert won with 63 percent.)
This was even though, Williams says, "nobody knew who I was. I was recruited at the last minute by [Libertarian National Committee Chair Nicholas Sarwark] who said 'you need to run.' I said, 'I'm not ready, I'm still learning,' and he said 'You're ready and we need you.'"
Williams found that "I enjoyed campaigning" and also served for a while between 2014 and 2016 as state chair of the Colorado Party. (On most measures of state Party strength—candidates run, votes earned, registered voters with the Party—Colorado excels.) She left the state chairmanship in January to dedicate time to her Senate run. One of her goals is to "recruit young people during the process, people are telling me it's the first time in their life they are voting for Libertarians. It's very encouraging."
Williams talks a bit about some of her specific issue messaging; "people ask about Social Security and health care and I tell them big government is not capable of managing our money; they've created trillions of dollars of debt, why do we trust them to run health care and run our retirement? People under 20 should have the opportunity to opt out of [Social Security] entirely, and when it comes to health care, I lived under single payer [in China] for 24 years and it was horrible, long lines, poor quality, and corruption. A real free market [in health care] would reduce costs."
The L.P., she believes, "needs to go out and actively communicate with the public and speak their language; we cannot be purists, we want to welcome all sorts of people and educate them about what libertarianism is, show we are nice, educated, cool, that we care about the country and care about freedom and are not too wacko and strange. We need to use simple language to communicate with the public. And we need to be organized and show up and do things and we need leaders to get people excited. Too many libertarians tend to not be active, some don't even vote."
Strategically for this Senate race, "I have been shamelessly knocking on doors; I did more radio interviews than my major party opponents. I have talked to almost all the major newspapers, go to community events, talk to conservative students on campuses, issue press releases, livestream, I spoke at the Free and Equal presidential debate."
Williams did university events with the Green Party candidate in her race as well. Her appearances tend to feature "telling my personal story, from tyranny to liberty, and how I'd hate to see the country I love become more like the country I left. I'm comfortable talking to left, right, center, it doesn't matter, I stick to the message, respect people, communicate with them, calmly try to persuade. I try to explain that government is force, and they don't think that way."
She knows that left and right have different reasons to feel uneasy with Libertarians. She likes to ask them: "Why do you trust the government so much? They are not angels and not supermen. Why do you want to give them so much power?"
Williams has not been included in any polls that she knows of; the existing ones show the incumbent Democrat Bennet winning. "It's very frustrating," she says. "I've gotten three [polling] phone calls asking about my race, and I could not choose myself. The only third choice they gave was 'not voting.'"
She expects to have a long history with the Libertarian Party. "I want to be the person who makes history, who becomes the governor of Colorado or a senator of the United States" as a Libertarian.
Simmons is running against Richard Neal, a 27-year Democratic incumbent. "All politics is local," Simmons said in a phone interview this weekend, noting that his district went strong for Bernie Sanders in the primaries, and that he is proud to be supported by some "Berniecrats" as a "progressive Libertarian." (Simmons' strong opposition to common core education requirements, he says, helps win him support of many progressive-leaning teachers.)
The district was recently reapportioned and it "took in large chunks of rural areas in Western Massachusetts that [Neal] never paid attention to and hasn't spoken to; they don't know who he is." Neal ran unopposed in 2014. Simmons has been reaching out to these new areas of the district, promising to be a more locally based and less D.C-based representative.
Simmons is proud of his level of community involvement. "I've been a community college business teacher for the last 20 years, I'm in the Coast Guard auxiliary, on a conservation committee in the town of Shelburne…in the district I'm a known entity."
There is no Republican running for the House seat, and Simmons says he can appeal to potential GOP voters because "I'm with them on issues like fiscal responsibility, Second Amendment rights." He also thinks he appeals to disaffected Bernie Sanders voters because he's "anti-establishment, anti-Import/Export Bank, something Neal is very much in favor of."
Simmons had been an L.P. member for about 10 years, though prior to this "my activity has been low level, supportive but not throwing myself into it like now." But "people in the Massachusetts Libertarian Party had been working on me for a while" to become a candidate. Simmons found his first national convention experience this year in Orlando heartening, discovering "the vast majority" of fellow delegates were "pragmatic and serious" and not the media cliche of "tinfoil hat wackjobs."
Still, he isn't a 100 percent behind every element of the L.P. platform. "I tend to be a stronger environmentalist than the Party platform," he says, though his campaign website doesn't emphasize such issues. "And I've been a public school teacher my entire life and I'm not calling for the elimination of public education." He's part of a new "Libertarian Pragmatist Caucus" (their slogan: "because freedom won't happen magically overnight") and says that if he wins "I am representing first and foremost the voters of western Massachusetts and not the Libertarian Party, and no one tells me how to vote."
The Libertarian Party's candidates, in the Party's current cash and manpower environment, are in most respects on their own. Simmons recognizes that "the state party does not have access to many resources so are not able to provide many resources, but they did send me $3,000 total, and a number of people in the state party have helped me immensely with grunt work, signatures (to get on the ballot), coming to rallies. My website was designed by John McAfee's 'Vote Different' initiative."
The national Party also set him up with some radio interviews but, though he asked for it, no cash. (Simmons nonetheless hat-tipped to the Party's national chair Nicholas Sarwark as being in his estimation "one step below God.") He wished he could have afforded to double his signs and his TV ads. His money pull was around $18,000, the majority in amounts below $25, and a lot of it from outside the district.
An unscientific poll "broadcast out to Internet lists" that got over 600 responses from his district, Simmons says, tried to find what percentage of respondents voting for specific presidential candidates were also intending to vote for him. Those results give him a rough hope he could be pulling the vote of 30 percent of Clinton's voters, and 85 percent of Trump's. This sort of left/right dichotomy was obvious in his campaigning, Simmons says. On a given day of "working my tail off," he says, "first I met with College Republicans and then went to a gay bar for a LGBT meet [Simmons is himself gay, with 6 adopted children], then I spoke to a gun owners' group one day and senior citizens the next."
It's important, Simmons insists, "to not speak libertarianese to the general public. It's not being dishonest to talk about one issue with one group and another with another; if speaking to seniors, I'd take Social Security by the horns….when speaking to sportsmen, speak about the Second Amendment. I never spoke the same way twice or gave the same address twice. [Once] I was talking to a bunch of area sports fanatics and launched into a discussion of how the Libertarian vision of government is akin to an umpire, just to lay out ground rules and apply them fairly, not be a coach or be the secret owner of one of the teams. But that was the only time I used that particular metaphor."
Simmons thinks "It's been a libertarian mistake all along to advertise the tools they want to use to change society, like get rid of income tax, privatize Social Security—instead of trying to come to agreement on goals" with voters. "What I have consistently done is discuss end goals, then talk about different road maps to get to that goal. I find even if people disagree [at first] about the tools to get there, there can be agreement and [potential voters] can walk away satisfied.
"For example, before senior citizens I never use the words 'privatization of Social Security.' That's a death knell.
"But we can agree that they ought to have more say and control of their [retirement] money and how it's spent and whether to take some of it upfront or not, say you paid into it all your life and you should have a right to control how to use it. [Then] I get 100 percent agreement and all those are advantages of privatization but I never say 'privatization.' Because they hear that and think it means take their money and give it to Wall Street."
He'll be doing retail campaigning through to the last day. Simmons summed up his campaign efforts in a letter to his campaign workers this weekend, also posted on his Facebook page. He wrote that he and his campaign "collected 3,000 signatures to get on the ballot; run 325 radio and TV ads on 6 local radio stations, ESPN, CNN, Fox, MSNBC, and the History Channel; shaken hands at county fairs, sportsmen's rallies, art festivals, and antique car rallies in Blandford, Cummington, Easthampton, Pittsfield, Belchertown, and North Adams; handed out 1,000 balloons at the Palmer Pumpkin Palooza; spoken to groups of senior citizens, chambers of commerce, and labor meetings; mailed more than 10,000 direct mailers to targeted towns….posted 100 campaign signs throughout the district…met with local farmers in Ashfield, Shelburne, and Lee; been featured on Frontier Community Access TV, WUPE, NPR's Congressional Roundtable, Coalition Talk Radio, the David Webb Show on Sirius-XM, and C-Span; spoken at the National and State Libertarian conventions, and a rally in Worcester; sponsored a GLBT Meet-n-Greet; handed out close to 4, 500 palm cards; met with College and Springfield City Republicans…."
I told Simmons that his list of efforts made, media obtained, money raised and spent, made him quite unusual for the typical Libertarian candidate for non-presidential office.
"I have to tell you, I would expect nothing less. If someone says they are running for office didn't do [all that] I'd be pissed off," he says. "When I said I was running for office, I meant I was running for office, not just putting my name on the ballot to be a placeholder and get 1-2 percent of the vote. I am in it to win it."
First thing you must understand about the Texas Railroad Commission: it is actually the regulatory body for oil and gas industries in the state. Miller has been a petroleum engineer and teacher of petroleum engineering for decades.
Miller has been registered to vote with the L.P. since 1972, though this is only his second run for office. He also sought the Railroad Commission slot in 2014, but got only 3.2 percent of the vote. The commission has three members with staggered six-year terms, so one slot is up for election every other year.
Miller thinks this is really a year in which people are prepared to take Libertarians more seriously. "In 2014 [the media] would hardly talk to me" but this year he's in the rare position of having multiple major newspaper endorsements (including the Dallas Morning News and Houston Chronicle) for a position in which the Libertarian has both a Republican (former state Rep. Wayne Christian, the frontrunner, and a past winner of Texas Monthly's "worst legislator" prize) and a Democratic rival (Grady Yarbrough, who is reported to have raised and spent no money).
Miller also credits the obvious lack of meaningful experience of his major party opponents as helping buoy his reputation. Miller has even written a book on the issues he'll be regulating if he wins. He would very much like to rename the agency to reflect what it actually does, since Texans should care about oil and gas but the race gets less attention than it deserves since "only 5 percent of voters" likely "know it doesn't deal with railroads."
Lots of interesting-to-Libertarians wrinkles arise in Texas regulatory law over issues such as the frequent separation of surface property rights and mineral property rights under the surface, and whether fluid injections by the industry are responsible for earthquakes and how to deal with that. Miller notes it can get tricky when Libertarians have to deal with rights actually in conflict; he also wants to rein in the profligate use of eminent domain by pipeline builders and operators to get their rights-of-way.
The particularly Libertarian aspects Miller tries to bring to the campaign, and would try to bring to the Commission, is "to make it a Commission whose sole role is to protect our property and our rights."
While Miller if he wins could conceivably find himself forever the one vote in 2-1 votes, Miller thinks "the press will cover 2-1 votes, they don't cover 3-0" and so he can at least draw attention to aspects of the Commission—especially the way they pretty explicitly operate as both supporters and regulators of the industry, and like most industries the oil and gas industry in Texas "don't like real free markets"—that Libertarians want to curb. The TRC is part of the executive, but in practice they do extensive rulemaking and even influence actual legislative action regarding the industry. Miller wants to start sunsetting the decades of regulatory accretions that may not make any sense now.
Miller raised what he recognizes as an "unprecedented" amount of money for a Libertarian non-presidential race, $125,000, much of it from two large donors, Michael Chastain and Chris Rufer. (Texas has no state finance regulations limiting the amounts they could give.) He also got a rare $20,000 from the national party given how important ballot access for Texas would be and the unusual momentum his campaign already achieved.
The money allowed him to run radio ads and billboards across the state. If he can get 5 percent, he'll lock in petition-free ballot access in Texas for the next election. There has been no polling that he knows of, though he runs into plenty of voters "who have heard of me through other than Libertarian outlets" so he's optimistic. He hope it will be part of a trend he sees in greater professionalism and success for the Texas state Party, which is already very good at fielding candidates at least. Miller would like to see actual intra-Libertarian competition for who would get on the ballot for statewide and local races.
He did the usual campaign things: distributed 30,000 door hangers, "went to every event" to spread the word and once was challenged with some of the worse aspects of the Libertarian brand, asked point blank: "aren't you guys just pot-smoking anarchists?"
Miller would rather the larger brand be that "for 40 years we've been the party of peace" and that in many respects the country has come in the Party's direction on tolerance.
Especially if he wins the coveted ballot access, Miller thinks the Party's next task begins "November 9": to find and recruit a great slate of candidates to run next time. "Candidates have always been key. You have to put up candidates people will like and pay attention to."